The city of Bonner Springs is officially searching for a new city manager.
It hardly seems possible that it is July! That means 2015 is half over and wasn't it yesterday we were celebrating the New Year?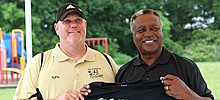 Frank White is no stranger to gold. He did, after all, win eight Gold Gloves during his days as the starting second baseman for the Kansas City Royals. But that color took on a completely different meaning on Friday afternoon at Edwardsville City Park, where White he donated his time to a charity autograph signing.
---
Don Wheeler, long-time leader of the Bonner Springs City Band Commission, shares a little about himself in this week's Face to Face.
Bonner Springs police are investigating an armed robbery of a vehicle Tuesday in the 600 block of Silverheel Drive.
Today's events
Event calendar