Cynthia Clark says she often brings her dogs with her to outdoor festivals or other public events, and people are amazed at how well the dogs behave in large crowds.
After 25 years of minimal upgrades for the Bonner Springs High School theater, the USD 204 Board of Education is looking at spending up to an estimated $677,000 to renovate the theater this summer.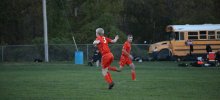 Thursday night marks the end of the regular season for the Bonner Springs High soccer team, who lost 7-2 on Monday at Turner High
---
Sue Adams is an Edwardsville Republican running against incumbent Tom Burroughs, D-Kansas City, Kan., for the 33rd District seat in the Kansas House of Representatives.
A 16-year-old Bonner Springs teenager was sentenced to five years and four months in a juvenile facility for the second-degree murder of his father last summer in Shawnee.
Today's events
Event calendar