At noon on Tuesday, the ballots for April 7 were finalized — and a number of local candidates will be running unopposed.
The city of Edwardsville has given its approval for a new gun shop to open in the city.
Stifling defense helped the Bonner Springs girls overcome an off night shooting and handling the basketball as the Braves held off Piper 36-32 on Monday in the opening round of the Top Gun Tournament in Wellsville.
---
Bonner Springs student Chad Uhl is one of 20 Kansas University sophomores who have been named University Scholars.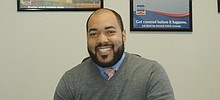 Bonner Springs native Jeremy Davis shares a little bit about himself in this week's Face to Face column.
Today's events
Event calendar