Engagement
Weber and Mellott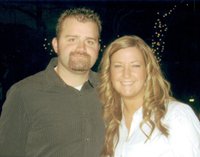 Robi and Joanne Weber of Shawnee announce the engagement of their daughter Allison Rene Weber to Geoffrey David Mellott, son of Garrett and Jonetta Mellott, Edwardsville.
The bride-to-be is a 2003 graduate of Mill Valley High School and is employed at Deluxe Check Printers. The groom-to-be is a 1999 graduate of Bonner Springs High School and a 2003 graduate of Pittsburg State University. He is employed as a lead tech at Superior Chevrolet.
The couple is planning an April 2, 2009 wedding at the Bonner Springs United Methodist Church.
Engagement
Ventura and Romo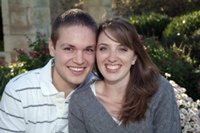 John and Brenda Ventura, Bonner Springs, announce the engagement of their daughter, Jessica Ventura, Bonner Springs, to Nicholas Romo, Edwardsville.
The future bride is a 2003 graduate of Bonner Springs High School. She earned a bachelor's degree in sports management from the University of Kansas this month.
The future groom is the son of Crespin and Cheryl Romo, Edwardsville. He is also a 2003 graduate of BSHS. He earned a bachelor's degree in microbiology and biochemistry from KU in 2007. He is a pharmacy student at KU and plans to graduate in 2011.
The couple plan to have a Jan. 2, 2009 wedding at The Mission Theatre.
Wedding
Scheidt and Gilliland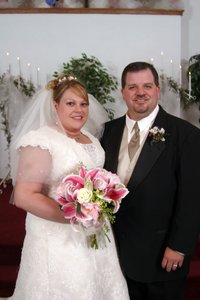 Megan Michelle Scheidt, Leavenworth, and Chad Leon Gilliland, Lansing, were married May 3, 2008, at Wallula Christian Church, Leavenworth, with the Rev. Lance Coffman officiating. A garden-themed reception followed at the Riverfront Community Center, Leavenworth.
Parents of the bride are Keith and Wendy Scheidt, Bonner Springs. Grandparents of the bride are Edna Lange and the late Leonard Lange, Bonner Springs, and Alena Mae Scheidt and the late Otto Scheidt, Jr., Linwood. Parents of the groom are Donna Gilliland, Parsons, and Richard and Linda Gilliland, Leavenworth. Grandparents of the groom are the late Louise McCabe and Jesse and Grace Gilliland.
The bride was escorted down the aisle by her father, joined by her mother, as they presented her to her future husband. Matron of Honor was Heather Shue. Bridesmaids were Emily Rand, Amber Bourek and Kimberly Scheidt, the bride's sister-in-law. The Best Man was David Sommerla. Groomsmen were Kevin Steinwachs, Will Desbien and Tommy Brown, brother of the groom. Ushers were Colby Scheidt, brother of the bride, and Mark Carlson and Jeff Wagner, brother-in-laws of the groom. Flower girls were Tori Gilliland, daughter of the groom, and Kaitlynn Pelzel, niece of the bride. Ring bearer was Jared Gilliland, son of the groom. Reader was Wendi Hooks, with soloist Heather Swartz, accompanied by Pete Bradshaw.
The wedding ceremony also included a family ceremony uniting the bride, groom and children.
The couple are graduates of Kansas State University. Megan is employed with the City of Leavenworth as the public information officer and assistant to the City Manager. Chad is a Division Manager with Arbormasters/Shawnee Mission Tree Service in Shawnee.
Following a honeymoon in Savannah, Ga., and Charleston, S.C., the couple will enjoy settling into family life at their home in rural Leavenworth County.