Anniversary
Yunghans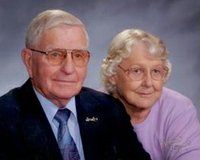 Elsie and Richard Yunghans, of Stockton, Mo., will celebrate their 60th wedding anniversary on Jan. 9, at Bongo's Bistro in Stockton, Mo.
The Yunghans were married Jan. 9, 1949, in Seneca. They lived in Piper before retiring in Stockton, Mo.
There have four children, Richard II, Olathe; Nancy, Stockton; Sandra, Kansas City, Kan.; and Edith, Leavenworth; as well as seven grandchildren and seven great-grandchildren.