Anniversary
Kinser
Elrie and Myrtle Kinser, of Newton, will celebrate their 75th wedding anniversary in March with their immediate family.
Kinser and the former Myrtle Wheeler were married March 25, 1934, in rural Stevens County, near Hugoton, Kan. They farmed in Stevens County until their retirement in 1977 when they moved to Haviland, Kan. In 2007, they moved to Presbyterian Manor in Newton where they now live.
Their sons and spouses are: Harold and Mary Ann Kinser, Sun City West, Ariz., Merl and Eunice Kinser, Coyle, Okla., Delmar and Phyllis Kinser, Newton, and Irvin and Jean Kinser, Bonner Springs. They have nine grandchildren and six great-grandchildren.
Cards and letters may be mailed to 1200 E. 7th St., Newton, Kan., 67114-2820.
Engagement
Dumler and Montplaisir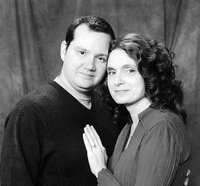 Mrs. Beverly Dumler, Basehor, announces the engagement and upcoming nuptials of her daughter, Nancy L. Dumler, Merriam, to Chad E. Montplaisir, also of Merriam.
The bride-to-be, who is also the daughter of the late Donald Dumler, graduated from Basehor-Linwood High School and then attended Kansas University, where she majored in psychology with a second major in applied ethics. She finished her M.A. and Ph.D. in philosophy and biomedical ethics from the University of Tennessee, Knoxville, in 2003. She has taught at the University of Missouri-Kansas City, the Kansas City Art Institute, the University of Kansas Medical Center, and Johnson County Community College and currently teaches computer applications at JCCC.
The prospective groom is the son of William "Dee" and Lucille Montplaisir, Columbia. Mo. He is a graduate of Hickman High School in Columbia, Mo. He received a bachelor of science in business administration from Rockhurst University and is currently employed as a programmer / developer by Barkley Advertising in Kansas City, Mo.
The couple plan a May 9, 2009, wedding at the Shawnee Mission Unitarian Universalist Church in Overland Park.