Engagement
Chrisman and Waitley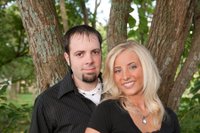 Randall and Lea Chrisman, Linwood, announce the engagement of their daughter, Amy, to Derek Waitley.
The bride-to-be is an Emporia State University graduate with a bachelor's of science in elementary education. The groom-to-be is the son of Clint Waitley and Katie Bolia, Leavenworth. He is a Lansing High School graduate and is co-owner of Kansas City, Installer, Inc.
The couple plans a June 26 wedding at Trinity Lutheran Church, 2101 10th Avenue, Leavenworth. A reception will follow at the Riverfront Community Center, 123 S. Esplande, Leavenworth.
Engagement
Roe and Muller