Anniversary
Donahue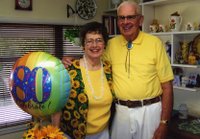 Genevieve and Darrell Donahue will celebrate 60 years of marriage this year.
They were married Sept. 17, 1950, at the First Christian Church in Bonner Springs. They have two children, Cheryl (Les) Myers and Jeffrey Donahue; four grandchildren; and three great-grandchildren.
The couple is active in the Overland Park Garden Club, the Bonner Springs Garden Club, the Bonner Beautiful Commission, Master Gardeners and have also helped establish flower gardens at the Wyandotte County Christian Church and the First Baptist Church of Basehor.
The Donahues will celebrate their anniversary from 1 p.m. to 5 p.m. Saturday, Sept. 4, at the First Baptist Church in Basehor. The couple invites friends and family, whose presence is gift enough.