Engagement
Pettibon and Day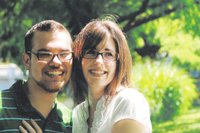 Jim and Cindy Kreider and Richard Pettibon, all of Bonner Springs, are proud to announce the engagement of their daughter Lisa Marie Pettibon to Zachary Ryan Day, son of David and Sherry Day of WaKeeney.
The couple met at Christian Challenge at Emporia State University. They were friends and then dated for eight months before Zachary's creative week-long proposal.
Lisa is finishing her Bachelor of Interdsciplinary Studies degree at Emporia State University. She hopes to be a mother and a homemaker.
Zachary is finishing his English degree at Emporia State University and plans to attend Midwestern Theological Seminary after graduation. The couple plans a wedding in 2011 and will then reside in the Kansas City area.
Wedding
Mitchell and Crary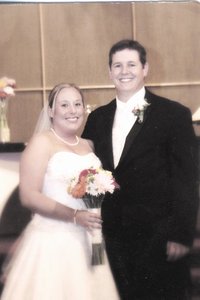 Whitney Mitchell and Ben Crary, Shawnee, were married on July 10, 2010, in Bonner Springs.
Whitney Mitchell is an Emporia State University graduate, currently employed by USD 458 Basehor-Linwood. Ben Crary is a Kansas University graduate, currently employed by the University of Kansas Medical Center, Kansas City, Kan.
The bride's parents are Jim and Kim Mitchell, Bonner Springs, and the groom's parents are John and Sharon Crary, Leavenworth.
Cassity Mitchell was the maid of honor at the wedding and Kyle Harriss was best man. Bridesmaids were Cari Lynn, Sara Miller and Melissa Kennedy. Groomsmen were Brian Kern, Karen Tsai and Nathan Mitchell. Flower girls were Abigail Casey and Alyssa Streit, and the ring bearer was Alex Hanzel.
The wedding, which was officiated by Pastor Brad Wheeler, was followed by a reception at the University of Saint Mary, Leavenworth. The couple honeymooned in Chicago.

Anniversary
Kuehn
Bill and Doris Kuehn, Bonner Springs, are celebrating 50 years of marriage this year.
Mr. and Mrs. Kuehn were married Aug. 14, 1960, at Trinity Lutheran Church in Memphis, Tenn. Their four living children — William (Karmaria) Kuehn II, Edmond, Okla.; Judith Kuehn, of the home; John (Kimberly) Kuehn, Lee's Summit, Mo.; and Mark (Jill) Kuehn, Las Vegas, Nev. — held a surprise celebration for their parents on Sunday, Aug. 22, at Trinity Lutheran Church, Mission.
The celebration continued with a surprise family dinner at the Bristol Seafood Grill in Leawood. A third surprise from the Kuehn's children came in the form of a cruise to Alaska, which the couple took in September.
The Kuehns have five grandchildren. A son, Timothy, died in 1993.