Anniversary
O'Bryan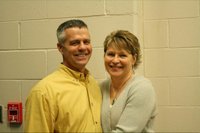 David and Jackie O'Bryan, Basehor, celebrated their 25th wedding anniversary with a surprise party Feb. 12 at the Remax Business Center in Bonner Springs.
Family and friends played host to the event.
David O'Bryan and Jackie Conn were married Feb. 15, 1986, in Kansas City, Kan.
They were high school sweethearts at Basehor High School — David graduated in 1983 and Jackie in 1984.
Their children are Megan O'Bryan, who attends Northwest Missouri State, and Amanda O'Bryan and Jay O'Bryan, who attend Basehor-Linwood High School.
David is employed with K&T Enterprises of Claycomo, Mo.
Jackie is an Herbal Life consultant.