Wedding
Shields and DeGraeve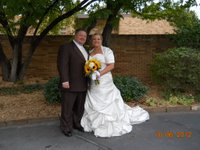 Tera Lynn Shields, Wichita, and Brian C. DeGraeve, Goddard, were married October 6, 2012, at Rolling Hills Country Club in Wichita, with Dennis Wallace officiating.
The bride is the daughter of Terry and Cindy Shields, Wichita.
The groom is the son of Greg and Jean DeGraeve, Kansas City, KS.
Maid of honor was Lacey Shields of Oklahoma City. Best man was Mitchell Krueger of Wichita. Bridesmaids were Anne Rothe and Ginny Shields of Wichita. Groomsmen were Jan Verboom and Darren Johnson of Wichita. Ushers were Andrew Trapp, John Benedetti, Chris Shields of Wichita, and Tyler Shields of Oklahoma City.
A reception followed at Rolling Hills Country Club. Music during the wedding was provided by Valley Center High School.
The bride graduated from Wichita South High School and attended the University of Kansas. She is a Medical Assistant and Cosmetic Surgery Coordinator at Kansas Surgical Arts in Wichita.
The groom is a 1998 graduate of Bonner Springs High School and a graduate of Wichita State University. He is the Network Administrator for the Goddard Public School District.
The couple honeymooned in Cancun, Mexico, and reside in Goddard.