Engagement
Kelly and Bishop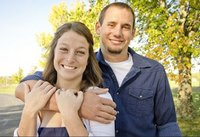 Jim and Cindy Kelly of Bonner Springs are pleased to announce the engagement of their daughter Rebecca Kelly to James Bishop, son of Jim and Sue Bishop of Bonner Springs.
Rebecca is a 2007 graduate of Immaculata High School. She earned her bachelor of education degree in
English at Pittsburg State University and currently teaches freshman and sophomore English at Maur Hill–Mount Academy in Atchison.
James is a 2006 graduate of Basehor Linwood High School. He earned his bachelor degree in Business
Management from Kansas State University and works for the family business, Vesta Lee Lumber, in Bonner Springs.
The ceremony will take place September 21, 2013 at Sacred Heart Catholic Church in Shawnee with a reception to follow at the bride's parents' home.