Engagement
White and Strawder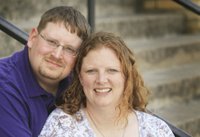 Mike and Kathy White of Salina announce the engagement of their daughter, Abby White, to Cody Strawder, the son of Shari Strawder, Scranton, and Ron Strawder, New Strawn.
Abby is the granddaughter of Jo Reed, Salina, Gail and Rose Roquet, Topeka, and Jim and Donis White, Aurora.
Cody is the grandson of Joe and Irene Howell, Goddard, and the late Jim and Nancy Strawder, Burlington.
Abby graduated from Ell-Saline High School and earned a degree in agricultural communications and animal science from Kansas State University in 2006. She is a public relations account manager in Gladstone, Mo.
Cody is a graduate of Burlington High School. He is a computer technician in Kansas City, Kan.
The couple plans to marry June 8, 2013, with a ceremony at the White Buffalo Ranch in Salina.