Engagement
Farnsworth and McGlinn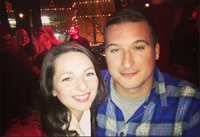 Steven and Carol Farnsworth of Bonner Springs, announce the engagement of their daughter, Katie Farnsworth, to Justin McGlinn, son of Patrick and Linda McGlinn, of Leavenworth, KS.
The couple met at the Shawnee Mission Beach Volleyball courts in August of 2012.
The future bride graduated from Emporia State University with a degree in Elementary Education. The future
groom graduated from University of St. Mary with a degree in Business Administration.
A Fall 2014 wedding is being planned. Congratulations!