Engagement
Kane and Harrison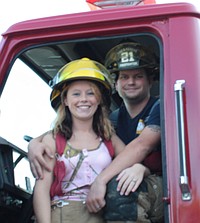 John & Karen Kane of Linwood, announce the engagement of their daughter, Kaitlyn, to Bobby Harrison, son of Brad & Judy Harrison of Tonganoxie, KS.
The future bride graduated from Basehor-Linwood High School in 2010. The future groom graduated from Tonganoxie High School in 2007.
They both are volunteer fire fighters for Reno Township Fire Department.
Bobby and Kaitlyn are planning their wedding for May 9, 2015 at Lamborn Farm in Leavenworth, Ks.