Remembering the days of Cactus Jack
Man's roots grounded in father's musical past
There is no guarantee that the streaks of red lipstick Don Call smeared as he vainly tried to wipe them from his cheek were the remnants of Patsy Cline's last kiss. Call feels assured, however, that he and his brother Dan were two of the last people to receive such a show of affection from one of country's greatest stars.
Call, currently manager of Bichelmeyer Brothers Grocery in Basehor, still vividly recalls attending a show in memory of his father Cactus Jack Call, a well-known country western disk jockey.
"It was a memorial service, but people wanted to have a good country western show. So there were a lot of stars there that night," he said. "We went backstage and talked to everybody because dad had known most of them. Patsy Cline gave my little brother Danny and me great big kisses. She had real red lipstick because she always wore a lot of makeup."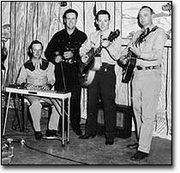 " She left this big red print on my cheek, and I was so embarrassed I tried to wipe it off. Then later, I realized that I was probably the last person she ever kissed on this earth," he added.
Cactus Jack had been killed in a car wreck in January of 1963, and since he had left two children, some country western personalities decided to have a fund-raiser for his family.
After receiving a call from former classmate George Jones, Patsy Cline volunteered to be on the bill. Following that show at Memorial Hall in Kansas City, Kan., she boarded her private plane for a return flight to Nashville, a destination she never reached.
Near Camden, Tenn., she and others who had performed at the Cactus Jack memorial, including Harold Hawkshaw Hawkins, were killed when the private plane crashed.
Ann Wilson, Call's mother, remembers visiting with Patsy Cline the evening of the show and still appreciates her willingness to perform since her name drew so many people to the event.
Cactus Jack had earned his fame because he was a relentless promoter of new talent. Whether he was on radio or television in Sedalia or in Kansas City, Mo.., he always offered local talent a chance to be heard.
One recipient of Cactus Jack's accolades now lives in Basehor and was surprised and pleased to learn that Jack's son also lived in the area.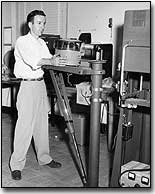 "Cactus Jack knew all the big names out of Nashville, and everybody liked him. He just played country music everywhere he went, but he promoted mostly local talent exclusively," said Harold Green, once a member of the Covered Wagon Boys.
Green, who played in a band with the late Bonner Springs resident Pinky Pinkepank, remembers first connecting with Cactus Jack in Sedalia, where the disc jockey had his own show. Cactus Jack's General Store broadcast on KDRO radio and KDRO TV.
"He was a small gentleman, but he had a deep bass voice that was really good for radio and television," said Green.
That voice became even more familiar to Midwest fans when Cactus Jack moved to KCKN in Kansas City, Mo. He also worked at KANS, and, just prior to his death, had been instrumental in formatting KCMK-FM, the first country western FM station.
Now that decades have passed since his father's career drew to an untimely close, Call realizes that he had been living with a celebrity. At the time, he thought people who visited his home as the ones with whom his dad worked. He thought his appearances on radio or TV were just helping his dad with work.
"If I saw that our garage door was up when I came home from school, I knew that somebody was coming over from the station. That way, they could just pull into the garage without anyone from the neighborhood seeing them. My dad would tell me not to tell anyone who was at the house. Maybe Little Jimmy Dickens was in the basement, and I couldn't tell anybody.
Big-time stars just wanted some time off, so mom would fix them dinner. Then, they would stay and spend the evening.
"I was just a little kid, so it didn't matter that much to me anyway. All I knew was that someone was invading my turf. I just regret that I didn't pay more attention to who they were," he added.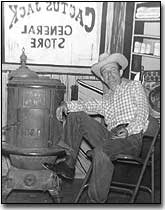 Being the son of Cactus Jack did have its advantages.
Call use to sit on his dad's lap and talk while he did his show. Cactus Jack would do the weather and spots on TV because back then people could fill several different rolls at a station. "Of course, Dad was program director, so he could do anything he wanted to," Call said.
Call remembers Bill Anderson, Jimmy Horton and Little Jimmy Dickens visiting his home.
"The first time I ever saw a $100 bill was when Little Jimmy Dickens took our family out to dinner at Stevenson's Restaurant over there in Independence," he said, emphasizing that was a pretty impressive sight back in the early 1960s.
While he was at KANS, Cactus Jack's following grew because the station was in Blue Ridge Mall, and shoppers could drop by and look into the sound booth as shows were being broadcast.
"We were always getting invited to people's homes for dinner. They would hear dad on the radio, and they would almost feel that they knew him," Mrs. Wilson said. "Jack always enjoyed having the audience just outside his window. He would wave at the people standing in the mall.
Prior to the advent of the star-building business with promoters and agents, a disk jockey played a vital role because fledgling singers and bands had to generate interest in their music pretty much on their own.
"My dad had always had small shows, and he would let new talent perform. A lot of those performers went on to become big country western stars.
"That's why people liked my dad. He let someone who was unknown have a chance to become known. Then, it was up to him to make it or not. Nobody does that today. No one gives anybody a chance today unless you have money," Call said.
Call also remembers his dad being asked down to Nashville to listen to new talent, so trips to the Grand Ole Opry were commonplace.
"Back in those days, if a DJ was really aggressive and willing to go out and meet people and do extraordinary things, you would get invitations to Nashville to listen to the new stars.
"It was an honor to be invited to the Grand Ole Opry to listen to the all the new singers because that meant you were a pretty famous disk jockey.
"It was a big thing for the singers, too, because if the disk jockeys liked you, they would go home and play your songs.
"One of the last guys that dad talked about just before he got killed was a young Mel Tillis. Dad told us about this guy who would lose his stutter whenever he sang," Call said.
Cactus Jack did more than just his shows. Each week he would put out a top 50 list and did his own surveying by calling jukebox operators and record sales companies.
He was also a popular emcee for shows of all sorts. Although he was never a musician, Cactus Jack was an astute judge of talent. Green remembers that being featured on Cactus Jack's show was quite an honor.
Despite being surrounded by so much talent and music during his younger years, Call did not follow in his father's footsteps. He tried to stay away from country western for awhile and tended not to talk much about what had happened during his dad's career.
"When I'd say that Johnny Horton and Bill Anderson and all those people have been to our house, kids would say, 'Yeah, sure.' So I never really said much about it," he said. "But my brother wound up being a disk jockey for awhile. He worked with one of the fellows that dad had known down in Excelsior Springs. It was a gospel Christian station."
Call said he thought of the celebrities as people who came to the house, played loud music in the basement and kept him from sleeping.
"I was just a kid and didn't realize what was happening," he said.
After a stint in the service and 10 years managing an Apple Market, Call and his wife Berta settled in the Basehor area.
"I probably never would have gotten back into country western if I hadn't met Harold Green and Garry Bichelmeyer, who wanted someone to play with them," said Call.
He still laughs as he relates how he and Green became acquainted.
Green had stopped at the store and during a conversation, Bichelmeyer just happened to mention that he had once played for a guy named Cactus Jack in Sedalia.
Bichelmeyer smiled, pointed toward the young man stocking shelves and said, "Well, that's his son over there," proving once again that it truly is a small world.
Following that chance meeting, Call agreed to start playing with the two men. Having learned to strum a guitar and mandolin as a teen-ager, Call got his hands on a guitar and joined the group that assembled in the back of the grocery store.
They now play on a regular basis at Doc & Brutie's Pizza in Basehor.
Being involved again with the music of his youth makes Call appreciate the experiences he has had and the messages of the songs he plays.
"There's a morality to it. They're put together by guys who are playing what they have lived," said Call.
"The songwriters live the life of the common man, so their music fits so many people," added Darrel King, another member of the group with whom Call plays.
"Most of the old country music told a story. Somebody just wrote the story of his life and put it to music," Green said.