Local pastor plants potatoes and preaches
"To every thing there is a season, and a time to every purpose under the heaven," it says in Ecclesiastes.
The last 10 days was the time for planting potatoes for local farmers, and Mark Meinke, a Bonner Springs farmer, planted his on Monday evening.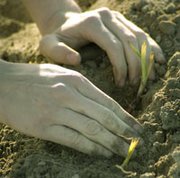 Meinke is also the pastor at Walnut Grove Bible Church, 16766 Cantrell Rd., but he makes most his living from farming.
"Pastoring doesn't pay," Meinke said.
Meinke, as well as farmers Herb Lee and Ray Bush, would have planted their potatoes sooner, but last week's rain and cold weather caused them to wait.
In the crisp spring sunshine his wife, Ruth, helped employee Kyle Allen, a Basehor-Linwood High School sophomore and member of Meinke's congregation, plant the potatoes by hand every eight to 10 inches in rows.
Mark Meinke said they plant by hand because he can't afford modern farm machinery.
Meinke is the third generation in his family to work the farm on South 142nd Street just south of Loring Road.
The seeds used for potatoes are actually sections of potatoes, with at least one eye per section. Each eye sprouts and uses the potato it sprouts from as food.
As Ruth Meinke and Allen planted row after row of Yukon Golds and Red Pontiacs from five-gallon buckets, Meinke drove his old tractor down the rows to cover the seeds with soil.
They would be planting about 200 pounds of seeds that day, Meinke said, which should yield about one ton of potatoes at the end of the summer. The picking will be done by hand as well, after a tractor plow uproots them.
Allen said "Kids at school don't believe I work on a farm." They think farms are all produce, he said.
Allen said he enjoys the work.
"It's fun to pick because you dig in the dirt with your hands," he said.
Meinke grows many other crops, including broccoli, watermelon, cucumber, and tomatoes, his biggest crop.
Mark Meinke said, "When we sit down in the summer, there's very little on the table we didn't grow ourselves."
He sells mostly to farmers' markets, including the one in Olathe he said, but also to some supermarkets.
What many people don't know is that potato farming used to be much more prevalent locally, with Edwardsville once known as Potato Capital of the World, Meinke said. It was there a successful African-American farmer named Junius Groves grew white potatoes on a farm with 500 acres and was known as the "Potato King of the World" in the early 1900s.
Idaho and other regions have since overtaken Edwardsville and Bonner as the premier potato-growing region of the country.
Meinke said his main occupation provides him with useful metaphors for his sermons.
"There are tremendous lessons in nature," Meinke said.
"We can learn a lot about ourselves from watching plants grow."