A blowout, big win and a nail-biter
Bonner Springs experiences it all at Metro Prep Classic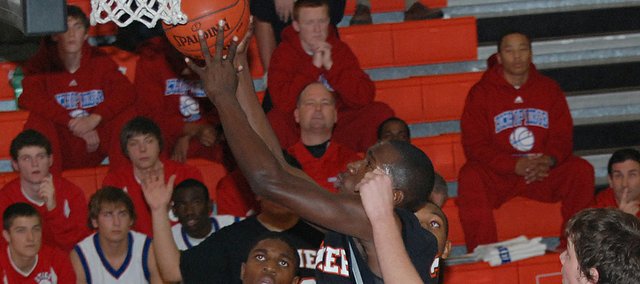 It's fair to call the Metro Prep Classic basketball tournament a rollercoaster experience for the Bonner Springs Braves.
The team picked up its first victory of the season at the tournament, but it also was blown out and edged in a nail-biter in the other two games.
All in all, coach Ryan Hull was pleased with his team's showing.
"A lot of people are probably surprised we even won one of the games because on paper we weren't supposed to," Hull said. "We won one and took another down to the wire, so I am happy with our effort. We are going to take this experience and try to build off of it."
The Braves (1-3) adopted a new run-and-gun offense this season that emphasizes the 3-point shot and layups. They've had their ups and downs while adjusting — primarily when going through stretches where shots won't fall.
Hull said the early games were a learning experience, and the Braves learned plenty during the three-game tournament from Thursday through Saturday.
BSHS opened the tournament with a 118-36 loss to Class 5A state powerhouse Bishop Miege. The Braves then bounced back with an 84-77 victory against traditional Class 4A power Atchison. Finally they played Lansing and led during the second half before falling, 74-62.
Against Miege, Bonner Springs simply ran into an opponent that had a major advantage in depth, size and talent.
The Braves did not help themselves out by going 7-for-52 from behind the 3-point arc and 12-for-75 from the field. Meanwhile, the Stags shot a scorching 75 percent (49-66).
Miege held a 9-5 lead three minutes into the game, but the Stags capitalized on Bonner turnovers and misses by scoring on four easy layups. Their lead grew to 28-12 by the end of the opening quarter. The score was 52-19 at halftime.
Trevor Releford led Miege with 23 points and 12 assists. Kyle Day led BSHS with 10 points and Chris Smith had 8.
On Friday against Atchison, Bonner Springs scored 32 points in the first quarter — only four fewer than the Braves scored all game against Miege. They buried 7 of 19 3-point attempts in the first half and led 58-38 at halftime before hanging on for the victory.
Day led BSHS with 12 points, and Luke Terrell added 11 points and 9 rebounds.
Smith and Brett Stueart each scored 11 points and Jared Brailsford and J.J. Jackson each had 10 during the loss to Lansing. The Braves led 38-35 at halftime before LHS pulled away with a 21-11 run in the third quarter.