A box of holiday cheer
Vaughn-Trent distributes 250 Christmas baskets in area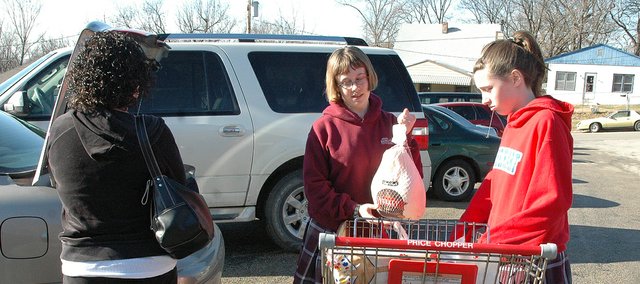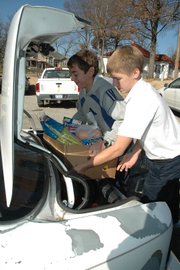 The Fellowship Hall of the First Christian Church was packed full Friday as 250 boxes piled high with food items filled the floor.
One by one, those boxes disappeared, and some local families received some extra help this holiday season thanks to the annual Vaughn-Trent Christmas baskets.
"I think things went well," said Christmas basket committee leader Jeannine Gallagher. "We had a lot of donations, which was good this year."
Members of the community, young and old, spent Monday through Friday sorting, packing and distributing the 250 boxes that would feed a family in need for a week. The baskets contained non-perishable food items that were donated to the cause, as well as items such as eggs, bread, chicken and turkey.
Gallagher said it was hard to compare the amount of items that were donated this year to last year's event, but said that no family who met the eligibility requirements was turned away.
"This community does a wonderful job of giving," she said.
Vaughn-Trent director Carol Geary agreed and said that this year's collection did not seem to be hurt by the ailing economy. She said, in fact, it had the opposite effect on the fundraiser.
"During these tough economic times, it seems what's happening is that the people that have are so concerned with the ones who don't."
Geary said she thought that the awareness people had of the recession had helped causes such as Vaughn-Trent, which also includes the organization's Fund Drive that is currently taking place. Geary said people who had never given before or didn't give last year, had stepped up to help this year.
In addition to the monetary and food assistance, Geary said that the volunteer help led to the event's success. Youths from Bonner Springs and Edwardsville Elementary, Bonner Springs High School, Sacred Hearth Catholic School and several home-schoolers pitched in their time during the sorting and distribution process.
"One of our older volunteers commented on how impressed she was with how well the younger helpers listened and followed directions," Geary said. "It's always just really nice to have their help."
Baskets were still being picked up Monday and Geary said that would most likely be the case until Christmas Eve. In addition to the food items that people could apply to receive, those with children receive additional help. The First Christian Church, along with Vaughn-Trent and Wal-Mart, donated a $25 Wal-Mart gift certificate to every child that could be used to pick out a Christmas toy or other desired item.