Family remembers longtime resident with fond stories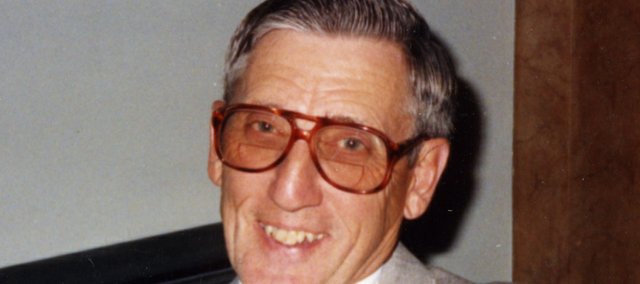 A lifetime Bonner Springs resident has died, and with him goes a legacy as a business leader, a friend and a big kid at heart.
Frank Harrington, a former owner and partner of Alden-Harrington Funeral Home, died Sunday, Dec. 14. He was 83.
"There is a fabric to every community with many threads that hold it together. Dad has been one of those threads for the past century," said Frank's son Bob Harrington of Missoula, Mont.
Although the funeral home was a big part of Frank's upbringing and then later as an adult helping to run the business with his sister and brother, Bob said that a more important aspect of his father's life was the social connections that he made by being such a dedicated Bonner Springs resident.
"It's those connections that are so important and are what continuously allow a community to grow and thrive," Bob said.
He had the heart of a kid, and according to his wife of nearly 60 years, Ellen, he never entirely grew up.
Bob said he could remember his father always doing something in the neighborhood to keep not only his children happy but all the neighbor children, as well. From a go-kart to a playhouse to a rope swing, Frank fit right in with the younger generations.
"He was the biggest kid of them all, and it never bothered him to be more comfortable with kids than with adults because he was having more fun than everyone else," Bob said.
Many memories surrounding Frank's life are fondly being remembered with his passing.
Frank's daughter, Lisa Bruce, of Bonner Springs, remembers hearing stories of her father acting as disc jockey during lunchtime when he was in high school. He would play the music, and all the other students would dance, she said.
Frank's other son, Jim Harrington, of Grand Junction, Colo., added that his father's love of music didn't end in high school. As a teenager, Jim said he could remember being "held captive" by his father who wanted to play him different music, even if it wasn't the genre that a teenager cared about.
Besides his family and community, another aspect of Frank's life that family say never left was his service in the U.S. Navy during World War II on the escort carrier U.S.S. Gilbert Islands.
Frank was fascinated by television programs about WWII and especially by the ones about the Navy or South Pacific. Bob said he also remembered his father showing him photographs of his past crew mates and telling stories that would connect their lives forever.
That interest in the military and South Pacific affected Bob's own life, he said. As a youth and a member of a military book club, Bob said he only read books about the South Pacific. Later as an adult, that translated into an interest in the Asian culture as well as adopting two daughters from China.
"I don't think that was an accident," Bob said of his interest. "I was impacted as a young boy looking at the photos and hearing the stories."
Lisa said her father would also be remembered as a talkative, friendly person who always wanted to make people laugh. Even in his last days, as he sat through the tedious process of getting blood drawn, Lisa said her father was talking to everyone and cracking jokes.
"This is definitely a milestone," Bob said. "The family will miss him of course, but I think the community will, too."