Horse owner starts mediation process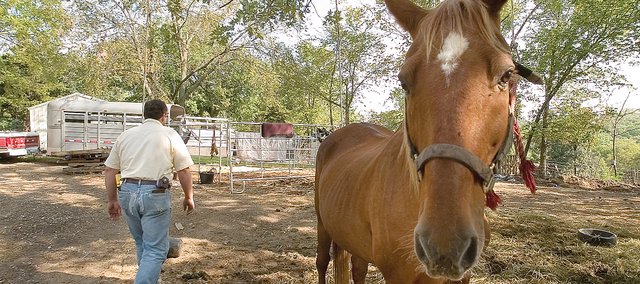 There may be a peaceful resolution in sight for an ongoing dispute between the City of Edwardsville and one of its residents.
On Monday, Edwardsville officials and Sam Davidson, property owner at 937 Edwardsville Dr., sat down with a mediation team from the Wyandotte County K-State Extension Office to begin what both parties hoped would be a step in the right direction.
Davidson, who owns nine acres of land on which he keeps 38 horses, most of them part of his horse-rescue operation, is upset with the city about allegations his property is overcrowded with the horses and is causing adverse effects on his neighbor's properties.
In an effort to save both he and the city money from attorney fees, Davidson sought out an alternative solution.
"(The mediation team) is something I found on the Internet while searching for another avenue to pursue something in a positive way for both sides," Davidson said. "It's an avenue for farmers to use when issues arise. We're dealing with people who understand farmer's issues as well as social issues and can be fair on both sides."
Following the first meeting, Davidson said he hoped the process would work for his situation. While he couldn't go into detail about what exactly was discussed or what resolutions were being considered because of mediation rules, he said he thought the meeting helped both sides get a better understanding of the issue.
"In any mediation, the key is understanding everyone's view point," Davidson said. "That was something that was actually discussed, and that there was a barrier there before that needed to be crossed, and I think something positive came out of that."
Edwardsville City Administrator Michael Webb agreed that he, too, thought the initial meeting was a positive experience for all. He said a second meeting had already been scheduled for the end of January.
"In my opinion, I think it was very valuable time spent," Webb said of the three-hour mediation meeting. "There wasn't a specific resolution at this point but both parties got a lot of understanding of where the other parties are coming from, which is helpful at this point."
Webb said that when the K-State Extension Office approached the city with the idea of beginning the mediation, he thought it would be a valuable process. He said before, Davidson and city exchanged letters, but not on a regular basis and not with any positive steps forward.
Webb said he understood the whole operation that Davidson conducted on his property and could take that into consideration with dealing with what Webb referred to as "code enforcement-type issues."
"Overall, in my opinion, (the meeting) achieved its purpose, and that was the opportunity for the parties to sit and talk about the issues and about why we're taking a specific position on the issues," Webb said. "We were able to move past step one, which we weren't getting past before."