Training explained by Army generals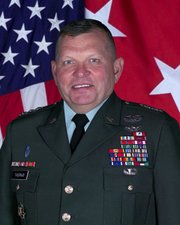 Fort Leavenworth — A new manual released this week outlines how the Army will train soldiers to switch from combat to civil stability operations — or do them at the same time.
Called full spectrum operations, it's something the Army has been doing in Afghanistan and Iraq for years. Now, the training for conducting the operations is on paper as doctrine.
"It's designed to help develop an expeditionary Army," said Lt. Gen. James Thurman, the Army's deputy chief of staff.
Thurman took part in a video news conference Wednesday from Washington, D.C., and answered questions from the Pentagon's press pool and news reporters at Fort Leavenworth. Participating at Leavenworth were Brig. Gen. Robert Abrams, commander of the fort's Combined Arms Center-Training, where the manual was written.
"The manual codifies much of the training we've been doing," Abrams said.
The recent wars have shown that the Army needs to be able to conduct conventional warfare with tanks and infantry but also be able to conduct counterinsurgency operations against small enemy units, often operating among the civilian population. But soldiers also need to know how to stabilize an area's civilian population, as well as its government, the generals said.
"It's not equipment that wins wars, it's people," Thurman said.
The new manual, called FM 7-0, doesn't go into specific details about how to train — that's left to commanders — but outlines how to plan, prepare and assess training.
"It puts commanders back in the driver's seat of planning their training," Thurman said.
A Web-based Army training network is being developed that will address the "how" of the training. The manual was planned in coordination with the Marine Corps, Thurman said.
"We don't operate by ourselves," Thurman said.
The manual is a follow-up to other manuals released this year, including FM 3-0, which changed the way the Army operates in offensive, defensive and stability operations.
The new manual can be downloaded by the public without charge at www.leavenworth.army.mil.