Finding their marbles
Collectors and artists converge on Bonner Springs for show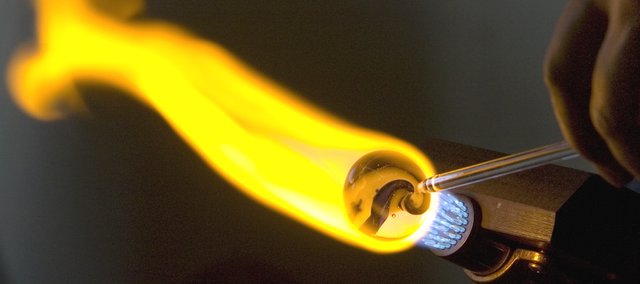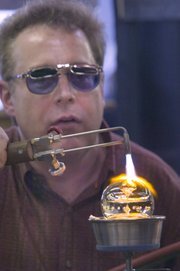 Glass artists from across the country and local marble collectors converged on Bonner Springs Friday afternoon to check out glass art of every imaginable color and shape.
The eighth annual Marble Crazy show kicked off the night before with a reception for the attending artists at the Toy and Miniature Museum in Kansas City, Mo.
On Friday the real action began, with marble-making demonstrations throughout the afternoon at Moon Marble Company, 600 E. Front St. The event attracted a few hundred guests by late afternoon.
The biggest draw may well have been glass artist Mark Matthews, who gave a one-hour demonstration making his "Super Jetson 3" marble.
Matthews is the glass artist in residence at Sauder Village, a historic village in Archbold, Ohio, west of Toledo, and his work is on display throughout the world, including at the Smithsonian Institution's Renwick Gallery of the Museum of Natural Art.
Matthews joked and hammed it up throughout the process, which made up for what he described as a "tedious" number of trips back and forth to the "glory hole," a gas furnace for heating the glass on the end of a long steel rod.
The process requires the constant twirling of the rod to prevent the hot glass from drooping in any direction, constant reheating with a torch, shaping with a long pincer while twirling, and poking the hot glass with a "steam stick," a large-pencil-looking tool of cherry wood to shape the bubbles inside the glass.
At one point after reheating the glass as it was nearing its final form Matthews said in his best Wicked Witch of the West voice, "How about a little fire, scarecrow?"
The finished product features what Matthew calls "equatorial BB-balls": a circle of tiny pockets of air suspended in the glass around a space-age-looking hourglass-shaped bubble with a disk at its center. Matthews incorporates a small amount of uranium 238 to give the glass a greenish-yellow color that glows in the dark.
Roger and Sally Gieschen drove from Lenexa to see the marble show and the store for the first time.
Both said they enjoyed the show. "I always thought they were all blown," Sally Gieschen said, referring to marbles. Matthews' demonstration didn't include any glassblowing.
Mark Kornbluth, a glass artist from Lincoln Nebraska, made his first appearance at Marble Crazy this year.
Kornbluth's specialties are what he called organic forms, which feature figures that look like moths and flowers. Kornbluth's display also featured some of the only jewelry at the marble show -necklaces with glass pendants - as well as goblets.
"I met Bruce at the Smoky Hills (marble show in Kansas)," Kornbluth said, "and he told me I should come."
Scott McBride, a collector who said he had about 80,000 marbles, displayed on a table at the show some of his treasures, including a rare century-old marble with an angel figure inside.
Human figures are rare in marbles, McBride said, and animals are more common.
McBride played marbles as a kid, and "I was terrible," he said with a smile, always losing his marbles at the game.
"Now he's buying them all back," joked a man passing nearby.
McBride also showed a marble with a cartoon-clown image that said "Koko" below it, which McBride explained was a comic strip in the 1930s and the marbles came in cereal boxes.
Another first-time artist at the show was Geoffrey Beethem, whose specialties are "New Earth" and "Mars," marbles, fist-sized spheres that resemble those planets, complete with clouds and a red spot, respectively.
Marble Crazy continues Saturday from 10 a.m. to 5 p.m. and capping the weekend will be the Marble Crazy Marble Collectors Show, 9 a.m.-3 p.m., Sunday, at Holiday Inn, 101 W. 151st St., Olathe. Admission is free, door prizes will be given and free identification and appraisals will be available.