Tiblow Days is rolling into town again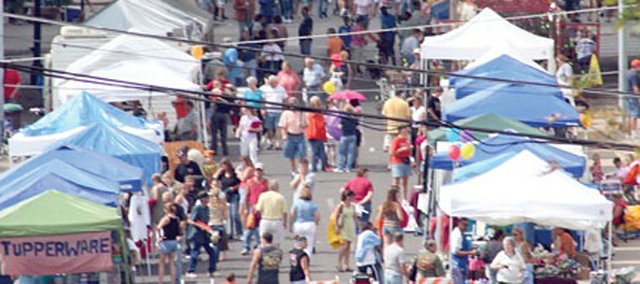 Tiblow Days is less than a month away, and this year there are some new events in the mix.
The annual celebration of Bonner Springs' history - named for Henry Tiblow, who ran a ferry across the river, established a trading post and was the town's namesake until 1885 - will begin Aug. 21, with the Mayor's Banquet at Bonner Springs United Methodist Church.
The next two days will feature the additions of a professional-level barbecue contest, two nights of live musical entertainment and a fireworks display to celebrate the city's oldest business.
The new Smokin' On Oak barbecue contest has attracted some big names in the barbecue world, said organizer Tony Corporan, including KC Rib Doctor and Three Smokin' Asses. Though a panel, and not the public, will judge the contest, individual contestants may offer free samplings of their work to spectators. The contest will be Aug. 23, in parking lots on either side of East Third Street at Kump Ave.
Registration for the contest is still open, and forms are available by calling the Bonner Springs-Edwardsville Area Chamber of Commerce at (913) 422-5044 or going online to the lifeisbetter.org/smokinOnOak2008.pdf.
Judges are still needed for the competition so to sign up call Charlene Biles at the chamber.
On Friday, Aug. 22 on a stage that will be set up in the parking lot behind Kobi's Deli and Club, 113 Oak St., the band Outlaw Junkies will perform, and the following night Shooting Star will play.
As usual, "everything's free," said Mike Clouse, chairman of Tiblow Days.
A fireworks display will be presented at 10 p.m. Aug. 23, courtesy of Alden-Harrington Funeral Home, as a kickoff to the celebration of its centennial anniversary.
"We're going to start celebrating at Tiblow Days, and go on through the fall," said Jeff Harrington, who runs the business with his brother, Brad, and father, John.
In addition to these new events, Tiblow Days will again feature a carnival Aug. 21-23, in the parking lot at Second and Elm streets, vendors along Second Street, a biscuits and gravy breakfast, the Tiblow Trot 5-mile run and 2-mile walk and a parade all on the morning of Aug. 23.
For a full schedule of various Tiblow Days events, visit the Web site lifeisbetter.org/tiblow.aspx.