Accident involving
BSHS

students kills one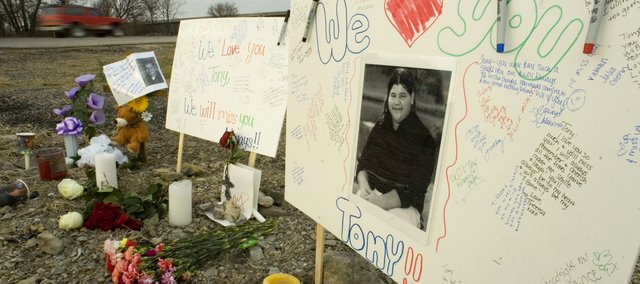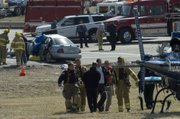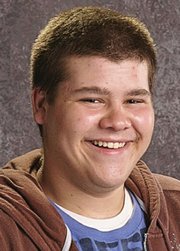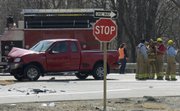 A fatality accident claimed the life of a Bonner Springs High School student late Friday morning at the intersection of Kansas Highway 32 and the exit for northbound K-7.
At 11:12 a.m. the Kansas Highway Patrol received a call for a wreck involving a 2002 Nissan passenger car and a 1997 Ford pickup truck.
Mark "Tony" Holmes, 18, who was in the Nissan's passenger seat, died in the accident. Daniel Perkins, 17, the second passenger, sitting in the back seat, sustained life-threatening injuries and was transported by helicopter to Overland Park Regional Hospital. The driver, Chad Way, had injuries that were not life-threatening and was taken to Kansas Unversity Medical Center.
The Nissan was heading east on Kansas Highway 32, turning left to the northbound exit for K-7, when the pickup truck, westbound on K-32, hit it.
None of the occupants were wearing seat belts.
The driver of the truck, Daniel Hernandez, 40, was injured and taken to Providence Hospital. He was wearing a seat belt at the time of the accident.
A Kansas Highway Patrol officer on the scene said he suspected drugs were involved in the accident because he smelled marijuana in the Nissan.
An announcement was made at Bonner Springs High School about the accident and informed students that counseling was available.
Holmes was featured in a Nov. 13, 2002 Chieftain article when he was a seventh-grader at Clark Middle School. In 2000, Holmes had survived a sometimes fatal disease, Streptococcal Toxic Shock Syndrome, but doctors were forced to amputate each of his legs below the knees because blood circulation there had stopped for an extended period of time.
An outpouring of community support flowed for Holmes during the recovery process with a benefit event, a Valentine's Day telegram fundraiser and other good-will gestures.
Holmes eventually learned to walk with prosthetics and he sometimes used a wheelchair when he got tired.
Holmes, 13 at the time, told the Chieftain his ordeal had taught him to take each day as it comes.
"Don't think ahead in life because you don't know what will happen," he said.
Click here for Holmes' obituary.
For more on this story, check back to bonnersprings.com throughout the week and pick up the April 3 edition of The Chieftain.