Family-owned business ready to change oil in Edwardsville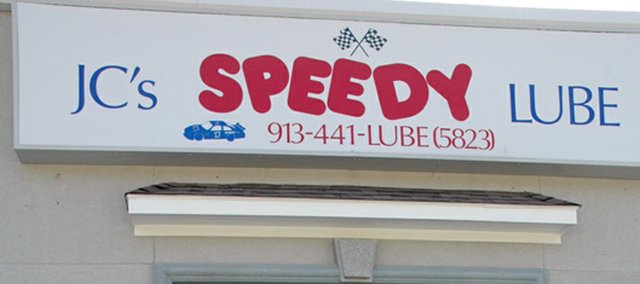 There's a new family business in Edwardsville.
Brothers Jasen and John Currie, with the help of their father, John Sr., opened JC's Speedy Lube on Monday, and as of midday Tuesday, the shop, at 9701 Kaw Drive, had performed 22 oil changes.
"A lot of customers had been waiting for us to open," John said, after 20 months' worth of renovation and construction at the former location of Tarpec Ltd., a carpet retailer that went out of business.
"We did most of the work except for the concrete and stucco," John said.
Converting the building to accommodate its new use included having a basement dug below the maintenance-area floor to allow easy access underneath customers' cars.
The shop is the only one in Edwardsville that focuses on quick lubes, the brothers said.
"We do all fluids," Jasen said, including radiator flushes and light mechanical repairs.
The brothers are both graduates of Bonner Springs High School — John in the class of 1990 and Jasen in 2001, and have a combined 19 years' worth of experience in the quick-oil-change business.
That's why they figured it was a good time to open their own business.
"We've been around it so long, we knew it inside and out," Jasen said. "We thought we might as well test the waters."
As for whether the business will thrive at a time when the national economic picture looks more dismal each day, Jasen said, "everybody needs to get an oil change."
To help attract customers, the store is running a $22.99 oil-change special. Also, the lobby features free wireless Internet access.
The brothers, who live in Kansas City, Kan., chose the location just east of Godfather's Express, because, John said, "we'd been looking for a long time. We wanted something close to home. It has a lot of advantages."
He said he thought much of their business would come from Bonner Springs and Edwardsville residents who commute east on Kansas Highway 32.