Five questions: Cabling to space
Space Pirate breaks down
NASA

challenge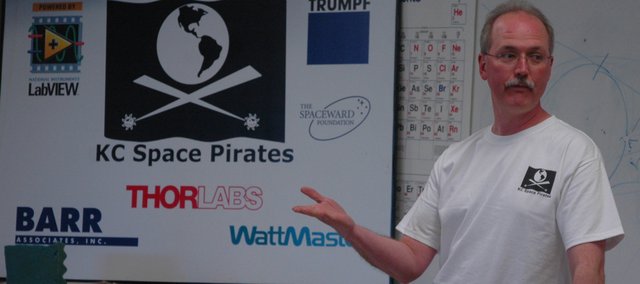 Q. Who are the Kansas City Space Pirates?
A. We're a technical competition team; we're in a NASA competition. We formed for this competition. It's called the NASA Beamed Tower Challenge (annual competition created by NASA in 2005). It's also known as the Space Elevator Games.
Q. How does the competition work?
A. We have to make a robot that can climb straight up (a cable) using only beamed energy. There's no batteries or fuel. You have to do it at a minimum average speed. This year, we have to go up a kilometer. Each year they increase the prize money, and they make it more difficult and, so far, no one has won.
Q. What is a space elevator exactly?
A. The space elevator's another way to get to space without having to use rockets, and it wouldn't cost as much. (NASA) is trying to get technology and ideas (through this competition); this isn't a direct path to the space elevator. The space elevator will let us get to space as a society instead of just a few astronauts. We'll be able to put thousands of people into space instead of just a handful.
Q. So is a space elevator something people will be traveling on in the near future?
A. We're on the edge. We don't know for sure if it's going to work. It's just the theory says it should be possible because of a new material called carbon nanotubes. It's the strongest material we've ever found for making cables.
Q. To give an idea of how high up the cable will be in this year's competition, can you compare the height to, say, a skyscraper?
A. It's taller than the tallest building in the world. Dubai is planning on building a skyscraper that's a kilometer high, but they haven't done it yet.