Heirlooms flavor library discussion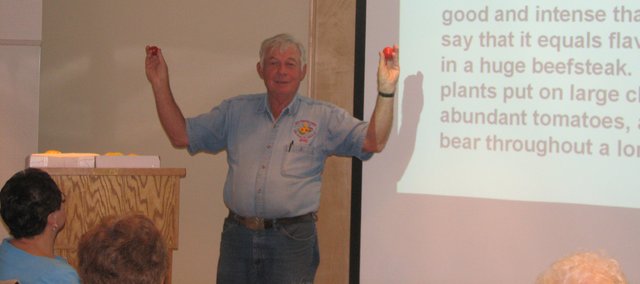 Not even master gardeners are immune from seeing occasional splits and cracks in their heirloom tomato crops.
Master gardener Bill Kromer, who along with is wife, Joy, spoke last week at Basehor Community Library, said gardening in general was difficult because of the unpredictability of summer weather, but tomatoes were particularly hard to grow.
"Tomatoes are very difficult to figure out," Bill Kromer said. "Too much moisture causes them to crack. Not enough moisture causes them to crack. This summer, we've had so much rain, and a lot of my tomatoes have split."
The Kromers returned Aug. 20 for the third installment in the library's series on home growing. Their discussion last week centered on heirloom tomatoes and how different types of these tomatoes can vary greatly.
The definition of an heirloom tomato, Bill Kromer said, is an open-pollinated, nonhybrid fruit. These tomatoes have been cultivated through many years using seeds collected from their parent tomatoes.
"The word 'heirloom' itself applies because these tomatoes have been nurtured, cared for and passed down from generation to generation," Bill Kromer said.
Heirlooms come is all shapes, sizes and colors. Some of the tomatoes the Kromers described included the church, Marianna's peace, riesentraube, green zebra and the southern night. While Bill Kromer showed photos of and talked about each tomato, Joy Kromer passed around samples of the fruits for everyone to taste.
The church is a bright red tomato that is slow to ripen, Bill Kromer said. These pieces of fruit can grow quite large, some reaching sizes similar to honeydew melons. Because of the weight of the tomatoes, they hang low to the ground, making them more susceptible to damage by bugs and animals.
Marianna's peace has some interesting folklore behind its name, Joy Kromer explained. Marianna was a young girl attending school in Germany during World War II. One day, Joy Kromer said, the German secret police invaded Marianna's school and took all the girls to a concentration camp in Poland. Marianna was separated from her family and she thought she would never see her relatives again. She moved to America, and with the help of the Red Cross, she located her father and was able to go to him in Germany while he was sick in the hospital.
"She ran to him, and yelled, 'Father!'" Joy Kromer said. "He held out his arms and said 'Daughter!' Then he handed her a small bag of tomato seeds and told her to grow them. There you get Marianna's peace."
The riesentraube is tiny in size, sometimes even smaller than a grape, and this tomato grows in clusters like grapes. Though the package is little, the fruit packs a rich flavor, Bill Kromer said.
One heirloom with a quite unique color is the green zebra. Green and yellow stripes cover this kiwi-sized tomato, and Bill Kromer says it compliments a bacon, lettuce and tomato sandwich nicely.
"It has such a tangy, wonderful flavor," Bill Kromer said. "Put it on a BLT, and it's like nothing you've ever tasted."
The southern night also stands out among the usual red tomatoes, as it bears a dark purple hue. Inside the southern night, the same color can be found, which Joy Kromer says has caused some confusion among a few of her customers at the farmer's market.
"One woman opened it up and thought it was rotten!" Joy Kromer said with fright. "She ended up throwing them all out, and I was like, 'Oh my gosh, you didn't just throw out all those beautiful heirloom tomatoes!'"
Inevitably, Bill Kromer said, gardeners end the growing season with leftover fruits and vegetables. Bill Kromer said a benefit to growing heirlooms is all the different tomatoes can be combined into a single phenomenal salsa.
"We spend one afternoon at the end of the summer making salsa," Kromer said. "We come home after church and throw in all our leftover heirlooms with some home-grown jalapenos, and it's a really good salsa. Tomatoes are great for that because you hate to throw them away and you're tired of the same old recipes. It's a fun way to enjoy your leftovers."