Homeowners grapple with fear of deer hunters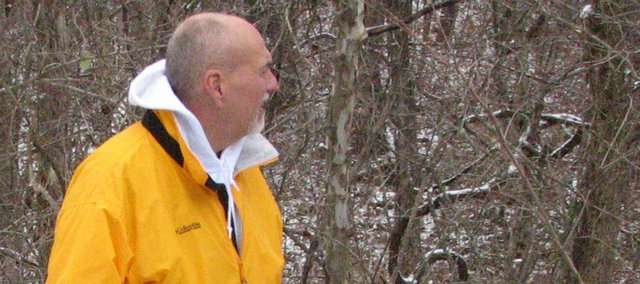 Janice and Richard Meleta are afraid to walk on the property that surrounds their Basehor home.
Throughout the past month, the Meletas have been waging a battle against possibly illegal bow and rifle hunting around their house. The possibility of being hit with a stray bullet or arrow has struck fear in the couple that has lived in the same home on 150th Street for more than five years.
Janice said the trouble started near the end of October, when she was walking their dog down a path that borders the edge of their property. She saw something blue in the trees and told her husband about it later. When Richard investigated, he found it was a pair of bloody surgical gloves.
"My mind immediately went to the worst," Janice said, explaining she thought her home might be part of a crime scene.
Richard, however, was more suspecting of hunting and phoned the Basehor Police. Police came out to the Meletas' home and reaffirmed Richard's thoughts the gloves probably belonged to a hunter.
Shortly after, the Meletas began hearing people in the woods by their house at night and heard shots fired during several nights and mornings.
A Basehor ordinance states any bow or rifle hunting is illegal within the city limits. Unlawful discharge of firearms is the "discharging or firing of any gun, rifle, pistol, revolver or other firearm within the city, and operation of an air gun, air rifle, bow and arrow, slingshot, BB gun or paint ball gun is the shooting, discharging or operation of the above within the city." The unlawful discharge of any of these weapons is a class B or class C violation of the ordinance.
Basehor Police Chief Lloyd Martley said the department took the matter quite seriously and was doing all it could to prevent illegal hunting. Martley also said, however, it was extremely difficult to discern where the shots had been fired.
"It is a serious matter," Martley said. "I can understand where (the Meletas) are coming from. We are talking about 120 acres of land that these shots could be coming from all different directions.  They could also be coming from the county side, where it is legal to shoot firearms."
Police and the Meletas discovered deerskin on their walking trail, as well as a deer stand, feeder and camera on one of the neighboring properties. Richard said he knew this was a tough situation for authorities, but he was determined to make it stop.
"I understand it's hard, but we have to nip it in the bud somewhere," he said. "And make no mistake, I'm not anti-hunting. I'm a hunter, too. But I am anti-hunting when it risks human life."
Anytime shots are fired or an arrow is launched, Richard said, it could cause tremendous injury to someone.
"It's the rifles that scare us the most," Richard said. "Those bullets have to stop somewhere, and that's just dangerous how close it is to all these houses."
Basehor Police and the Leavenworth County Sheriff's Office have continued investigating the Meletas' reports of hunting. Martley said he notified the owner of the deer stand of the city's laws, and the stand had since been taken down. Police officers have also been patrolling the area to listen for shots and have not heard anything.
"I feel we have done and will continue to do everything possible to catch whoever is shooting a weapon in that area," Martley said.
Meanwhile, the Meletas said they hadn't heard any shots lately, and they had been taking some proactive steps to try to prevent hunting. On the advice of the Kansas Fish and Game warden, Richard painted purple stripes on his trees to signify it was a no hunting zone and posted "no hunting" signs at various places in the area.
"We're just hoping enough word gets out that hunters will say 'OK, we can't go back there anymore,'" Richard said. "If people are concerned about deer, let the experts handle it. Let the conservation people handle it. Don't take it into your own hands, because people can get hurt."