Waterpark taking shape
Schlitterbahn construction progresses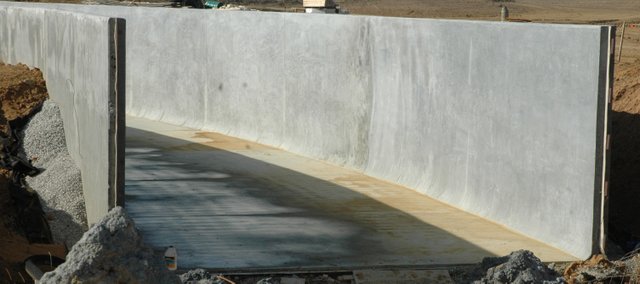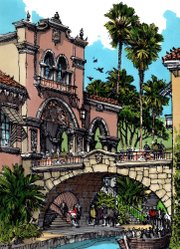 The 360-acre plot of land off of Parallel Parkway in Kansas City, Kan., could be characterized as a whole lotta dirt, with a few pieces of construction thrown in. But in a few months, it will be home to phase 1 of one of the largest tubing parks in the world.
"I don't think people realize what they're in for," said marketing manager Chris Ozimek of Schlitterbahn waterpark, which is set to open this June.
Ozimek said the site might not look like much now because construction must be done, literally, from the ground up to make way for the rivers, lakes and waterways that will be featured throughout the park.
He said site work, which has included mass grading of the grounds and installation of a storm sewer and water line, is almost complete.
Once that is finished, all that will be needed for the phase 1 opening is the construction and assembly of more than a dozen rides and attractions.
Some of these will include the Master Blaster uphill water coaster and the Torrent Tidal-Wave River, which Ozimek said is the largest tidal wave river in the world, measuring 1,620-feet long and approximately 20-feet wide. Two tubing rivers, two water slides and two tube chutes will also be ready for the opening, as well as a hot tub with swim-up bar and the Kinderhaven children's water activity area.
Ozimek said the park will look spectacular when the first phase is completed, but will only be a taste of future developments.
"(People are) not gonna believe that there's more to come because the park is gonna be such a unique attraction itself," Ozimek said.
What is to come is the Schlitterbahn Vacation Village, which will include the water park as well as a multitude of shops, restaurants and upscale hotels.
Though three Schlitterbahns — located in Texas — have come before, what will set the Kansas City, Kan., one apart is the Transportainment River System, called the Guada-Comal River, which will be unique to this area. The river walk will be the main mode of transportation in the village, with ferries waiting to transport visitors wherever they want to go.
"It's almost like a lazy river, but it connects everything," said Ozimek. "It's not just an attraction on its own, but it takes you to each attraction, so you never have to leave the water."
Ground was initially broken on the $750 million project in September 2007. Orlando, Fla., and Southern California were also looked at as possibilities for the site, but Kansas City, Kan., turned out to be the perfect location for a project of this magnitude because, according to Ozimek, there are 93 million people within a one-day drive of the area. And though, weather-wise, Kansas City might not be the ideal place for a water park, this water park will boast a contingency plan for freezing temperatures in the form of a 130,000-square foot indoor section of rides with a convertible, retractable roof. People will have the opportunity to visit the Schlitterbahn year-round, Ozimek said.
Businesses set to take residence in the village will include SkyVenture, offering visitors a unique indoor skydiving experience, and a Scheels sports store. Ozimek said Scheels is comparable to a Bass Pro Shops or Cabela's, but will be much larger and will come with a ferris wheel and 16,000-gallon aquarium.
"It's a destination where we're gonna have things that you can't just do anywhere," he said.
Ozimek said there wouldn't be any future phases, but just a consistent, steady flow of additions made over the next two years until the project is complete. He said he could try to describe how Schlitterbahn Vacation Village will look when it is finally finished, but this is truly a situation where visitors will have to see it to believe it.
"It's one that you can explain but until you really experience it, you don't know what it is," he said.