Braves thrive at Mat Classic
Seaton, McCleary nab titles at home tournament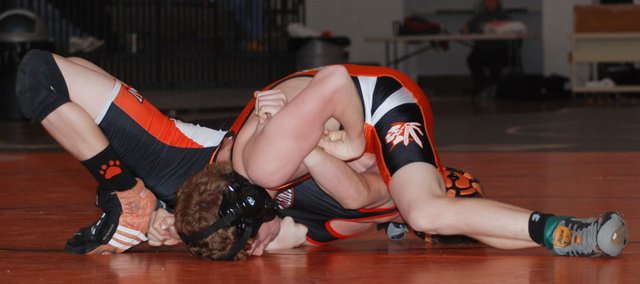 The host team's coach was proud of his squad's accomplishments in the 43rd annual Dick Burns Mat Classic wrestling tournament on Saturday.
And that's pretty good news since the coach is also the son of the tournament's namesake.
"It was a good day for Bonner," BSHS coach Dan Burns said. "We did a good job as a team and had our best day of wrestling this season. We really showed improvement and stayed in matches longer, extending their opportunity to fight for a victory."
The tournament, hosted by Bonner Springs High School featured 13 teams, 12 from Kansas and one from Nebraska.
That one team from Nebraska, Bellevue East, rolled to the title with a team total of 243 points. Bonner Springs finished fifth with 121 points. Basehor-Linwood finished sixth with 114 points.
As the day pressed on it was obvious that Bonner, which had hoped to have a good showing, was going to end up with several opportunities to win championships in different weight classes.
Starting in the 112-pound weight class, sophomore Caleb Seaton faced off against Matt VanAusdall from Shawnee Mission Northwest. Seaton scored a takedown in the first 10 seconds for an early 2-0 lead. He swung VanAusdall over and slammed him to the mat for a near-fall. With the 5-0 lead, Seaton moved in for the kill and pinned his opponent inside of the first minute of the match.
"I kept my head up today," Seaton said. "It goes both ways sometimes, I just came out ahead today. This is good for momentum (going forward in the season)."
Burns was really impressed with Seaton's day.
"He tried some new things out there today," Burns said. "He had been working on new techniques in practice and used them with a lot of success. It only adds to his repertoire and extends what he is able to do."
Brooks Ballou wrestled in the third-place match in the 125-pound weight class. Ballou defeated Jackson Wiley from Eudora 4-1.
"Brooks had a good day and wrestled fundamentally sound," Burns said. "There is not a better-conditioned kid on our team. He can take matches the distance and really attempt to take advantage of the other guy's fatigue."
In the 171-pound weight class BSHS sent an improving Anthony Ellingsworth to the final. Not just happy to be there, Ellingsworth turned in the best match of the day. He faced off against Cody Spader from Shawnee Heights. The match came down to the last minute but Ellingsworth could not gain a final point to force overtime, losing 10-9.
"Anthony is having a very good year," Burns said. "His performance on the mat is getting better, and I think he will learn from the mistakes he made in this match and continue to grow as a wrestler."
In the final match of the day, sporting a freshly cut and orange-dyed Mohawk, Tanner McCleary faced off against Billy Sons from Bellevue East. McCleary dominated the match, pinning Sons for the title at 285 pounds.
Burns said he was impressed with McCleary's day and was happy to see the big smile on his face after he won his match.
"Tanner is the model of what you want a kid to be like on your team," Burns said. "He always wants to do well, and he is very coachable. He is also a very well-conditioned heavyweight, making him a difficult matchup. His leadership is contagious to the rest of his teammates."
The Braves are not complacent with their fifth-place finish.
"The kids know that they have improved from last year," Burns said. "They are still very hungry to show what they are capable of doing on the mat."