City, area to celebrate holiday
Events planned to remember Martin Luther King, Jr. Day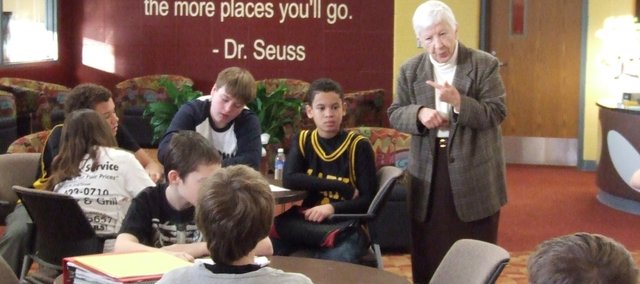 It was a dream that changed the nation and a dream that wouldn't die.
Forty-six years after Martin Luther King, Jr. gave his famous "I Have a Dream" speech, and 41 years after the assassination of the man behind that dream, people are still celebrating his message.
Keeping with tradition, Bonner Springs will once again be participating in the annual Martin Luther King, Jr. Day Celebration. The event, which has a 21-year history in the community, will be at 1 p.m. Monday, Jan. 19, at First Christian Church, 148 N. Nettleton Ave.
"This is the most love in one room that I see all year long," said Kay Shevling, chairperson of the event's committee. "It's just a room full of love."
This year's event will have the theme "The Dream Reborn," asking the question "Would Martin Luther King, Jr. go green?" Topics will include the ways in which community members are addressing threats to the environment.
"I think he would have wanted to be a part of this if he were still alive," Shevling said of King. "I just think he would have gone green."
The keynote speaker will be Richard Mabion, a community activist from Kansas City, Kan., who is addressing issues in the inner city. Also at the event, fourth-graders from Delaware Ridge Elementary School will keep present a project they've been working on about water. The musical group Singspiration Musicians will perform as well.
In addition to honoring a key figure in the civil rights movement, the event will take a moment to honor another influential individual. Joanne O'Brien, who was a longtime committee member of the Martin Luther King, Jr. Day event, died April 28, 2008. Her fellow committee members will honor her by starting a memorial in her name. Money will be raised at this year's Martin Luther King, Jr. event and will then be donated to the Bonner Springs City Library to purchase books.
In the schools
Despite not having school on Martin Luther King, Jr. Day, students of Clark Middle School haven't let that stop them from also getting in on the celebrations.
As part of a semester-long civil rights unit, the seventh-graders got a visit Thursday from Sister Rosemary Flanigan, a member of the Sisters of St. Joseph of Carondelet who traveled in 1965 to Selma, Ala., to march in a civil rights protest.
The petite nun, who spoke in an animated voice and made wide motions with her arms, captivated her young audience by telling the story of her involvement in the civil rights movement. Her message to the students who followed her with their eyes as she walked in between their tables was that injustices should not be ignored, but rather acted upon in a peaceful manner.
"You are young but you can know what things are wrong," Flanigan told the roomful of students. "There's something wrong when we treat one another unjustly. And for us not to do something about it is wrong on our part."
One of the students raised his hand and asked if she was scared during the protest.
Flanigan answered "Yes" and told a story about standing outside before the march began next to a tall, black man in overhauls. Sticking out of one of his pockets was a toothbrush, Flanigan said, and she asked why he had it. The person on the other side said that he had the toothbrush because he expected to be in jail that night.
At that instant Flanigan said she did feel fear, but not even that could stop her from standing up for what she thought was right.
"If you see that people are being bullied and you see the injustice in it, you can't just sit on your hands, buddy. You do something about it," Flanigan said, adding any action should be done in a peaceful manner and without violence.
"What I'm trying to get you to think about is for you to wonder what's going on today in Bonner Springs that may be unjust and what can we do about it," Flanigan said.
In the surrounding area
Also celebrating the national holiday will be Kansas City, Kan., with the 24th Annual Kansas City, Kan., Dr. Martin Luther King, Jr. Holiday Celebration.
The event will be at 11 a.m. Monday, Jan. 19, at the Jack Reardon Civic Center, 500 Minnesota, Kansas City, Kan. A theme of "Proving the dream as we embrace change — while continuing towards peace, love and brotherhood," will be showcased through keynote speaker Rev. C.L. "Clem" Bachus, pastor of the Mt. Zion Baptist Church of Kansas City, Kan.
"The dreamer's dream has not fully been met yet and we want to keep that dream alive," said Rev. Lemuel Wynn during a press conference about the celebration.
In addition to the 11 a.m. event, the annual "Motorcade For Hunger" will depart at 10 a.m. from the Mt. Zion Baptist Church parking lot, 417 Richmond Ave., Kansas City, Kan., and will arrive at the Civic Center by 11 a.m.
The celebration will also include presentations of more than $30,000 in scholarships that are being awarded to graduating high school seniors through the Rev. C. E. Taylor/MLK, Jr. Educational Awards Program. The program will feature local youth talent from elementary schools in the Kansas City, Kan., school system
The day will not only have special meaning as the celebration of the civil rights leader, but Wynn said that because the event is the day before the inauguration of President-elect Barack Obama, the day means so much more.
"We're looking forward to a great celebration," Wynn said. "And we're looking forward to the next day when a new president of color will be in the United States leadership. This is just a start, not a finish, to the dream Martin Luther King had."