First-year teachers receive accolades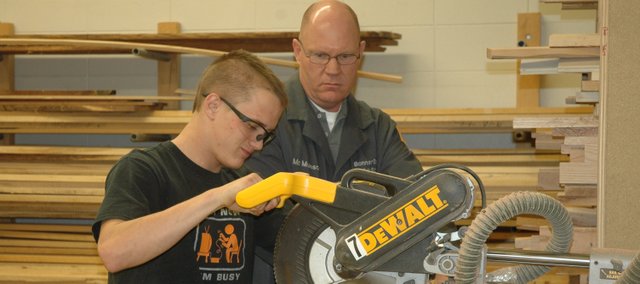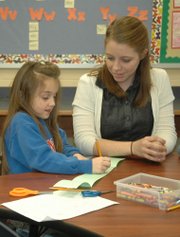 Kris Munsch has owned two liquor stores, a few nightclubs, a laundry mat and a construction company to name just a few of his former businesses.
He spent 14 years of his life starting businesses and selling them, until everything changed in December 2005. His son was killed in a car accident, and at that moment, life would never be the same.
"I really did some soul searching at that point," Munsch said. "I was just looking for something I could be passionate about."
That's when Munsch decided to go back and finish his education degree and become the teacher he had wanted to be since he was in high school. Now, after one year in the field, Munsch is one of two Bonner Springs-Edwardsville School District teachers who received a 2009 Horizon Award.
Joining Munsch, who teaches woods, drafting and robotics at Bonner Springs High School, is Molly Dykman, a first-grade teacher at Delaware Ridge Elementary School. The Horizon Award recognizes 32 first-year Kansas educators who distinguished themselves as outstanding.
"I was shocked," Munsch said about finding out he won the award. "It really made me step back and say, 'Man, I made the right decision.'"
Munsch said that he tried to incorporate as many real life experiences into his classes as possible. Whether it's from bringing in second-graders from Delaware Ridge Elementary and having his students take on the teacher role to build a bird house, or his brutal honesty when it comes to his own life's struggles, failures and successes, Munsch is always working toward making a connection with his students.
"It's not about building that night stand," Munsch said. "It's about the process. It's about gaining confidence. It takes a process to build a space shuttle. They can do it, and that's what I teach them."
Munsch doesn't want to stop at affecting just a few classes of students, however. In May, Munsch will receive his master's degree, and in June, he plans to start on a doctorate degree. He said he hoped to one day to become a principal to make a difference and build relationships with not only an entire student body but with the parents and teachers.
"I'm making up for lost time," he said."
Dykman also said she considered building relationships as the key purpose of being a teacher. With two parents as teachers, she resisted the idea for a long time, before giving in because she said it just felt right.
"I've always felt at home in a classroom," she said. "Whether I'm the student or the teacher, I've just always felt comfortable in a classroom."
The Emporia State graduate taught kindergarten at DRE last year and moved up with her students into first grade this year. She said that because of the number of young teachers at DRE, she was surprised when she found out she had won the award.
"I was really excited," Dykman said, adding that receiving a phone call from the Kansas commissioner of education was extremely intimidating. "I just feel really honored to represent Bonner Springs."
Dykman's goal when it comes to teaching is to make sure her students are experiencing what they're learning. When they started a unit on monarchs, Dykman had her students tag butterflies, and when it came to a lesson on sod houses, Dykman had her students go outside and get a piece of sod.
"Anyone learns better when they're experiencing the actual act," she said about both children and adults.
Along with the experiences, Dykman said she always tried to bring excitement to her lessons. Her goofy attitude helped with this she said, and she hoped that it lasted her entire career.