Generations of groove
Family members find the beat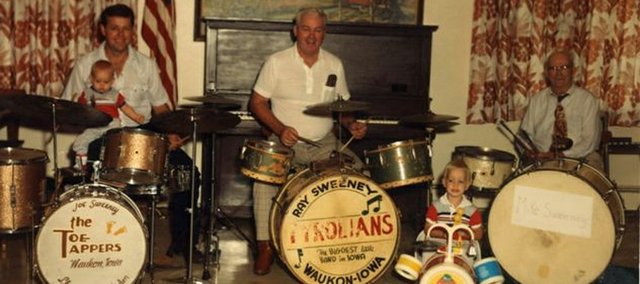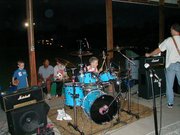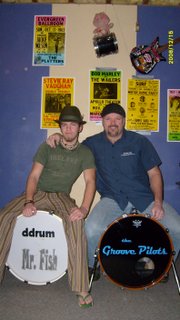 Groove can be defined as the musical element that puts the beat in your feet.
At least that's what drummer Tim Kelly believes. The Edwardsville resident is just one in a slew of family members who's taken on the drumming lifestyle.
"It's the groove that's made our family so successful," Kelly said. "It's not just something you can learn. You can learn all the techniques you want, but the groove is something that's embedded inside you."
Kelly, who plays drums for the band The Groove Pilots, followed in his grandfather and brother's footsteps when he decided to pick up a pair of drumsticks. His grandfather, Michael Sweeney, was the first American-born member of his Irish family and was known for playing the drums and harmonica.
Kelly remembers as a young boy that he and the rest of the family would drop anything they were doing when grandpa wanted to play. With grandma on the piano, Kelly said the house was always filled with music.
But it was Kelly's older brother, Ricky, who really got him started on the instrument. Ricky went to Los Angeles in 1972 to make it as a professional drummer and when Kelly was 7 years old, Ricky bought him his first drum set.
Kelly said he never wanted to be a professional musician — especially after seeing the near-poverty life his brother led — and decided to become an aerospace engineer instead. Kelly took time off from drums to raise his children, but as they got older, the drums re-entered his life in a big way.
"I dug them out of storage 10 to 15 years ago, and I've been playing pretty steady ever since," he said.
And with the use of that drum set was born the next generation of a family drummer. Kelly began to teach his son, Tyler, at age 5 the ways of the drum. By age 8, Tyler was playing at the Edwardsville AutumnFest and by age 11, he was getting paying gigs.
"It just seems to be a natural thing," Kelly said. "My family seems to not only have a good sense of rhythm, but a true sense of joy that comes out via music."
Kelly said he is his son's biggest fan and worst critic. Being musicians, he said they both could tell when one another makes a mistake in a song, but that doesn't take away from the pride he feel's when he watches Tyler play.
Tyler, who is now 16 and a junior at Bonner Springs High School, is currently playing in the band Mr. Fish, which Kelly described as a funky cross between the Pixies and the Talking Heads. Before putting his focus toward his current band, however, Tyler was in two others and would also substitute for his father sometimes with The Groove Pilots.
Members of Mr. Fish have accomplished a lot after being together for three years. The young group won a battle of the bands at the Gem Theater in Kansas City, Kan., and the CD can be bought at most Borders bookstores in the Kansas City area.
With all the generations of family members bringing the groove, Kelly said family reunions were always an interesting event. With uncles, cousins, a brother and a son all playing the drums, the beat never stops.
"It's a great club to be in," Kelly said.
What affected Kelly the most when it came to his music was watching his grandfather at age 93 still drumming in the nursing home. Kelly said seeing the people who usually sat around quietly in old age get up and dance and smile to the music his grandfather played would stay with him forever.
"Still to this day, it's hard for me to explain how I feel to have the ability to move people with my music and make them want to get up and dance, which to me is the primary function and symptom of music. When people are up dancing, that's when I'm the happiest."
Tim Kelly's band The Groove Pilots, which he said played classic, contemporary, upbeat party music, takes the stage from 6-10 p.m. every Sunday at Mac's Place, 580 S. Fourth St., Edwardsville. In addition, the band will be playing from 8:30 p.m. to 1 a.m. Friday, Jan. 16, at Side Pockets, 620 N. Kansas Highway 7, Bonner Springs, with special guest Mr. Fish. For more information, visit groovepilots.com.