Bonner dancer heads to New York for training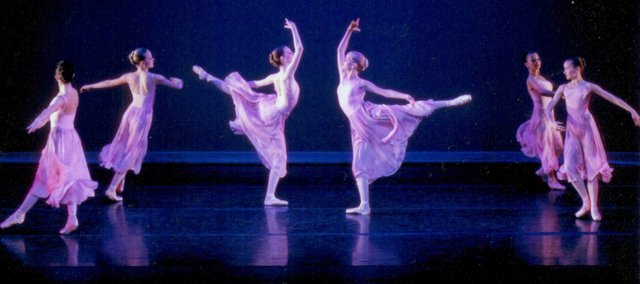 At 9 a.m. Madison Epp will head into her first class of the day, a ballet and pointe technique seminar.
After a break for lunch, she will be back in the studio rehearsing for an upcoming performance. Another break for dinner is followed in the evening by a class on either jazz, modern or partner dancing.
This 9 a.m. to 8 p.m. all-day dancing schedule will go on from Monday through Friday with a half-day of classes thrown in Saturdays and often a performance on Sunday.
"It's fun," Epp said of the tough, busy schedule she is about to embark on as she prepares to leave Bonner Springs July 13 and head to a summer intensive program in Chautauqua, New York.
The 14-year-old Bonner Springs youth, who has dreams of some day becoming a professional ballerina, was accepted to the summer program after an audition process that chose 22 other youths from across the country.
"I was really surprised," Epp, who attended the same program last summer, said. "Last year when I got in, I didn't think I'd make it. This year, I'm just really excited to be accepted back."
Epp, who will be a Bonner Springs High School freshman in the fall, has been dancing since age 3, but said she didn't get serious in ballet until age 10. Now, she lives and breathes ballet and is an active member of the Kansas City Youth Ballet Company, an affiliation of the Kansas City Ballet Company.
Her work with the company had her perform in the annual Nutcracker show, and she even starred as Clara, the lead youth role, two years ago. Her other favorite performance with the company was the Grand Tarantella, which she said was very physical and really tested her abilities, but she liked it because she got to show off her personality.
She also attended the annual Kansas City Ballet summer intensive this year. She said the two programs were similar and both have talented teachers and dancers involved, but it was more difficult to get accepted into the New York program.
Even though she is on track to becoming a professional dancer, Epp plans to attend college after graduating high school. She's not sure of her degree just yet, but she is confident that an education is an important step in her life.
"You can't be a dancer forever," she said. "So I have to have something I can go back to."
For now, Epp is looking forward to the summer intensive. She said she knew many of the other youths returning this year and was eager to catch up with them. And for those she's never met before, she's just as excited to meet them.
"I just have fun meeting new people," she said. "It's hard work, but there's a lot of things to learn. I just hope to improve in general."