Electrical fire destroys Bonner home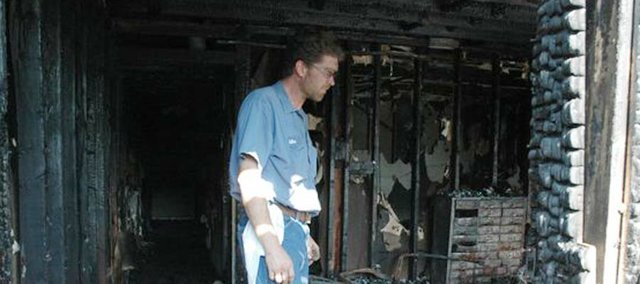 Losing everything but the clothes on your back is a scenario with which Mike Charlson, 33, is now well acquainted.
The Bonner Springs resident woke Saturday morning, around 3 a.m., to the sound of the smoke alarm going off in the duplex he lived in at 511-513 N. Nettleton. What started as a fire caused by what he presumes to be a faulty electrical outlet in the front of his house soon began consuming the back of the living room couch. Charlson and his girlfriend, who was staying with him at the time, tried to put it out, but the smoke became unbearable, he said.
"I couldn't breathe, man," Charlson said. "I told my girlfriend, I was like, 'We need to get out of here.'"
Charlson, who suffered minor burns from trying to put the fire out, ran to the house next door to warn his neighbors, where, after getting no answer to his knock, he kicked the door open in order to alert them to what was going on.
Charlson said he wasn't sure what time his girlfriend dialed 9-1-1 for help, but he said the fire department arrived around 11 minutes later or, as he said, for what felt to him like a lot longer. Before the fire could be put out, however, it had destroyed much of the inside of his half of the duplex, leaving in its wake the charred remains of Charlson's valued possessions, such as an expensive drum kit and a large collection of model trains.
"I've been a musician for 20 years," Charlson said. "I lost every scrap of music I own."
The duplex has been Charlson's residence for several years and he said it didn't come with smoke detectors. He only bought them after a similar, but less destructive, fire happened last year.
As for what he will do now, Charlson said he is living with his girlfriend for the time being and has insurance coverage so will be getting at least a monetary return on his loss — one that won't be quite enough, he says.
"C'mon, are you serious? How would you feel?" Charlson said, unable to hide his frustration at being asked such an obvious question. "You have nothing left. No shoes, no clothes, no nothing. All the stuff you've saved all your life, all gone. Can't be replaced."