New library opens to amazement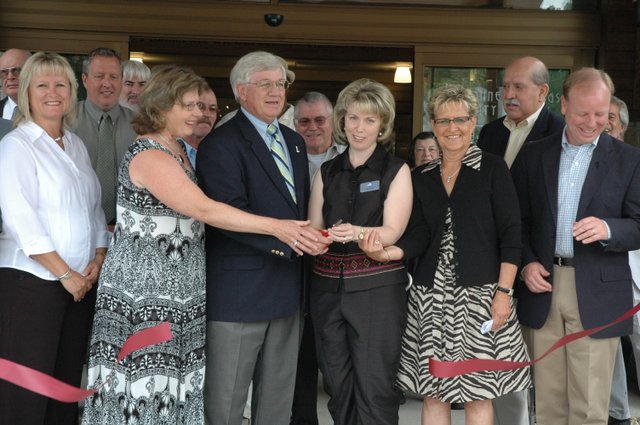 Area residents poured into the new Bonner Springs City Library on opening day yesterday with about one collective expression on their faces: a combination of wonder and amazement at the shiny, new and much larger haven of books and computers before them.
"It's wonderful, it's beautiful," said Bonner Springs resident Helen McGraw. "It's more than I ever thought it would be. It's hard to believe it started off in a little bitty small room and evolved to this."
To mark the occasion that has been 10 years in the making, a raising of the flag and a ribbon cutting ceremony were conducted prior to the opening of the doors.
"Looking out into this crowd, every face I see is someone who helped make this possible," Beets said to a large crowd before helping to cut the ribbon. "I could never be in a more supportive community. I hope you love this library and I know you will."
Library Board of Trustees president Vicky Wheeler also spoke, reminding everyone of the date Sept. 12, 2006, where a record-making 80 percent of voters in Wyandotte County voted in the affirmative to fund a new library for Bonner Springs.
"We finally did it," she said.
Helping with the ribbon cutting were library staff and library board members, in addition to such area officials as Bonner Springs Mayor Clausie Smith, Kansas City, Kan., Mayor Joe Reardon, Edwardsville Mayor John "Tiny" McTaggart and Kansas Sen. Kelly Kultala. Following the ribbon cutting ceremony, these same officials partook in a read-in ceremony outside the storytime room in the new children's area, where they each read a page of the first book ever to be read in the new library: "The Boy Who Was Raised by Librarians," by Carla Morris. The story tells a very fitting tale of a young boy named Melvin who spends every day in the library, making friends with the librarians who help him and inspire him until he must finally leave to go to college.
From the looks of it yesterday, the new library is sure to bring in many library lovers like Melvin of its own.
"I think it's great," said Bonner resident Stephanie Hern while browsing through a bookshelf. "I'm definitely going to be here a lot."
"Isn't it fantastic?" said Linwood resident Anna Meyer, who visited the former Bonner library to check out books about every 10 days. "There's just so much room and it's so well-lit that you can just see everything and browse and read. But it's just a great atmosphere."
Features of the new library include 12 new computers, to make a total of 24 computers, a large trained-theme children's area and a Kansas Room, where history and genealogy is kept.
"It's pretty good, I love it," said 13-year-old Bonner Springs resident Jonahtan Carter of another new feature, the teen area with its neon lighting and edgy high top tables for seating. "It has a very nice relaxing lounge and it has a very nice selection of books. I like it."
The new Bonner Springs City Library is open from 9 a.m. to 8 p.m. Monday through Thursday, from 9 a.m. to 5 p.m. Friday and Saturday and 1 p.m. to 5 p.m. on Sunday. It is located at 201 N. Nettleton.