MBA

programs cater to working adults' needs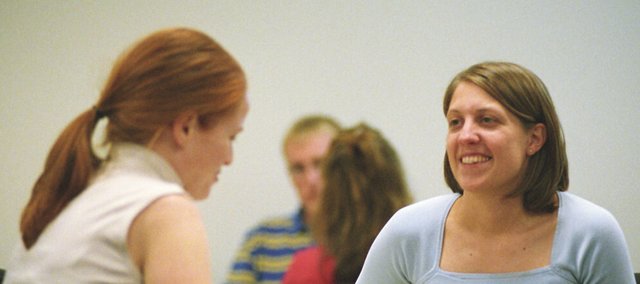 When Kathy Bard decided to return to school, she was looking for two things: more education to help her performance at her current job and to make herself more marketable for any future job prospect.
And within in two years, the assistant city administrator in Tonganoxie completed her objectives by obtaining her master's in business administration from the University of Phoenix in May 2008.
"It was tough," Bard said. "The hardest part was managing your personal time to allow time for work, studying and the online classes."
With a national unemployment level at nearly 10 percent, and with no foreseeable end to the trend, some people have stopped thinking about their briefcase and started thinking about a backpack.
Kelly Belk, director of enrollment at Baker's school of professional and graduate studies, said she had seen more of an interest in the number of people looking for more education while the economy was down.
"We are seeing people wanting to go back to school so they can be more prepared for the future," Belk said. "Some people don't know if they will have a job in the future and are wanting to make sure they are working on their degree so whatever happens, they will be prepared to put themselves in a better position."
Dee Steinle, administrative director of master's programs for the Kansas University School of Business, said she also had seen a higher interest in people wanting to go back to school to get a master's degree. The usual class of about 40 full-time MBA students in Lawrence may jump to about 60 by the time the fall term starts, Steinle said.
Like the University of Phoenix, universities like KU and Baker have master's programs catered to meet the needs of working adults.
Many of the schools have programs in which students meet in their small classes for a few hours, one day a week for up to 24 months to complete the program.
To help working adults, Baker University and the University of Phoenix provide online courses for students to complete degrees at their own pace.
Steinle said KU officials had discussed adding online courses to their MBA program but that the university would never offer a degree that can be acquired on the Web alone.
University of Phoenix takes it online program one step further and doesn't go by the traditional academic year. Students are allowed to start their education at any point during the year.
"That is something that many find attractive," said George Arnold, campus college chair of business for the University of Phoenix. "Not tied into the typical semester system does provide some more flexibility."
But with greater flexibility comes more cost.
The University of Phoenix offers its classroom MBA program at $550 per credit hour with a cost of $655 per credit hour for its online program.
Baker University runs $475 per credit hour for its traditional classes and $530 for the online program.
KU does offer an accelerated program through the Edwards Campus at $523.80 per credit hour. A longer and more comprehensive program with different degree options in Lawrence is available for $450 per credit hour.
Whatever the time and tuition cost might be, Niraj Kapur, who along with his wife and two brothers is currently enrolled in the Baker University program, said the cost was worth it.
Kapur, 34, who was laid off from his Silicon Valley job in 2000, already has a graduate degree in computer science. He said after several years working for Genetech, he wanted to solidify his position in the company and decided to get a master's degree after listening to advice from his mentor Jared Grantham, Baker University alumni and member of the school's board of trustees. Kapur hopes to use his degree to work internationally with his company.
"If you invest in yourself can you really lose?" he asked.