Small Business Development Centers offer adult education for entrepreneurs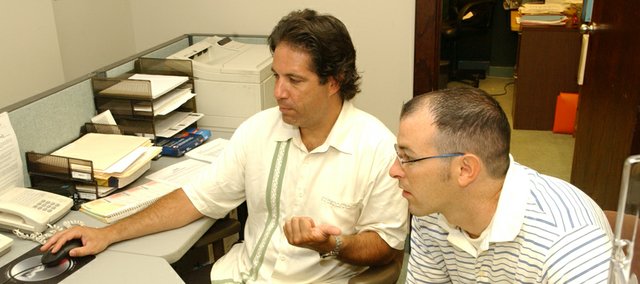 Hilary Brown has had a vision of healthy fast food since she was 18, but she said it took the help from an agency down the street to make her Local Burger restaurant a reality.
Before opening her restaurant on Lawrence's Vermont Street, Brown found help two doors away at the Kansas University Small Business Development Center.
"Without the KUSBDC, I honestly don't think we would be open," she said. "At the very least, I wouldn't be the full owner. I would have had to have someone to help with the business side of it."
Brown said she was "a natural" at marketing her business, which opened in September 2005 and provides burgers and other fast food staples made from locally raised livestock and poultry free of hormones and antibiotics and served with organic bread. The gap in her knowledge was on the financial side of the business.
"I really had no business background," she said. "I had a catering business I ran on the side throughout the time I was a practicing occupational therapist, but I didn't really run that right.
"They were a great help in understanding the financial portion — introducing me to the basic structure of a business plan and also about how to raise capital."
Will Katz, director of the KU center, said Brown was typical of those the center serves. They usually have little or no business background or knowledge. To help them, the KU center and seven others in Kansas offer counseling, classes and links to other resources.
"The vast majority had no business experience but had a technical skill and some dream they wanted to pursue," he said. "We can work with any business with less than $100 million in revenue and 500 or fewer employees. We seldom see anybody with more than $10,000 in revenue."
The classes the center offers are designed for entrepreneurs with that level of expertise, Katz said.
"Our most popular class is our Right Start class," he said. "We do it every two weeks. We cover all aspects of getting started — a feasibility plan, permits and licenses, insurance, market analysis."
The class is free and has room for about 20 people, Katz said.
Other classes at the center explore some of the same issues covered in the Right Start class in more detail. The center does have a few advanced classes, such as one on the QuickBook software accounting program, he said. That is also the center's most expensive at $140.
"Everything else we do is $25," Katz said. "The start-up ones are free."
Malinda Bryan-Smith, director of the Johnson County Community College Small Business Development Center, said that center also emphasized start-up classes but had more classes for owners of existing businesses.
Fall classes will start in August and include such topics as business plans, marketing, financial management, opportunity management, family business issues, legal issues and franchising.
The JCCC center also has QuickBook classes, which are more expensive because of hands-on computer training and individual instruction. Other than a class on Franklin Covey management techniques, which costs about $300 because of franchise requirements with its developer, classes run from $15 to $30 with some offered free, Bryan-Smith said.
The center also partners with the JCCC to offer not-for-credit college business classes.
"They have semester-long business classes with those taking the class not-for-credit sitting right next to someone taking it for credit or certification," Bryan-Smith said.
Also popular is a semester-long CEO roundtable discussion group, Bryan-Smith said. The round table has a facilitator and no more than 15 business owners selected through an application process meant to ensure a good mix of business types and that no one is inhibited from speaking out because a competitor is at the table, Bryan-Smith said.
With the recession, the centers were seeing more people exploring starting their own businesses after being laid off or seeking help to make it through difficult time, Katz and Bryan-Smith said. But they said most of those who walk into their offices do so for the same reason as they did in better economic climates.
"Even in times like this, we are seeing people who see a great opportunity and are willing to take advantage of it," Bryan-Smith said