Singer packs houses at age 92
Talent takes former Bonner Springs resident on an amazing life journey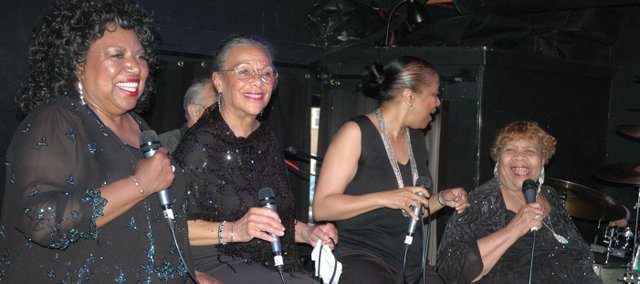 In the dimly-lit, intimate setting of Jardine's Restaurant and Jazz Club, there is at least one monthly act that always fills the tables.
The Wild Women of Kansas City have been packing the house at Jardine's in Kansas City, Mo., for years now, and owner Beena Brandstgard has a theory as to why this might be.
"Because they make the people have fun," Brandstgard said during a recent Wild Women of Kansas City performance. "And it's also eras of jazz, the crowd interaction. They make people feel good."
The group is composed of Kansas City-based singers Lori Tucker, Millie Edwards, Geneva Price and Myra Taylor, who are backed up by percussionist Ham Strawn, keyboardist Bill Maness and drummer Jurgen Welge. Though each individual woman brings an impressive amount of singing talent to the stage, one major draw to a Wild Women show is most certainly 92-year-old Taylor.
Taylor was born in Bonner Springs and talks about her childhood as a time when, as she puts it, "nobody wanted me," noting how she often felt like "just another mouth to feed." Her father was out of the picture and, after her mother died when Taylor was seven, she was shuffled between a great uncle living in Bonner Springs and her mother's best friend living in Kansas City, Kan. She never made it past the eighth-grade, leaving school at the age of 14 to go to work as a house cleaner.
But Taylor could sing and dance and wanted to become a professional tap dancer originally. She got her first job dancing professionally at age 15 in a nightclub on 12th Street where, after finding out a friend who already worked at the club and with whom she was supposed to dance as a duo had been fired, Taylor quit after only two performances.
"I walked away and never looked back," she said.
Taylor got her second job dancing about five months later, in a nightclub, she said, where she had to enter and exit via a back window because she was too young to perform there. She would later get jobs dancing all along 12th Street, but it would be her singing voice that would leave the most impression.
She was eventually able to parlay those early stints on 12th Street into a career working clubs in the more well-known area of Kansas City on 18th and Vine, and then into a singing career that would span the globe.
During her lifetime, Taylor has performed throughout the United States and in 32 foreign countries, singing the popular blues, pop and torch songs of the day as well as several she wrote herself, including "Spider and the Fly," one of her most well-received songs, and "Cumbaye," a crowd favorite she wrote in the 70s while working as a performer in Africa.
Taylor also sang with the USO during the World War II, Korean and Vietnam wars and ran her own nightclub in Germany, called Down By The Riverside, from 1972 to 1979.
The Wild Women of Kansas City formed about nine years ago. The women sing together but, more often, individually, giving each other the spotlight. Their repertoire ranges from Billie Holiday covers to "Respect," by Aretha Franklin and the group is known and loved throughout Kansas City. Any crowd at Jardine's is often filled with regulars who have been attending Wild Women performances for years.
"I mean they really engage the audience and you get to sing along and you feel part of the show," said Lois Cowden, of Gladstone, Mo., who has been attending performances for three years. "If I'm in town, I'm here."
For her part, Taylor helps this participatory feeling along by stopping in the middle of songs frequently to talk directly to and joke with the audience, often directing the humor at herself.
"If you're gonna take a picture, take it (on this side of my face)," she said at one point to a camera-wielding audience member during a performance Sunday night. "I don't have no teeth on the other side!"
Despite being a well-known figure in the Kansas City jazz scene and having the ability to command the attention of an entire nightclub, Taylor remains humble. She praises her fellow Wild Women, who she says are all "wonderful" in their own right, and she believes strongly that a woman of her age isn't getting all this attention just for her singing voice.
"Well I know that I get an awful lot of publicity, but I don't think I'm getting it because I'm such a great singer," Taylor said. "I feel that I'm getting it because I'm 92 years old. And how many people do you know who are 92 years old and still singing?"
Still, Taylor said she's happy with what she's done, where she's at today and that she still has the ability to show people a good time.
"I'm happy, I'm alive, I enjoy entertaining and I enjoy making people smile," she said. "When I'm up there on the stage, I'm in another world."
The Wild Women of Kansas City perform from 6:30 p.m. to about 9:30 p.m. the last Sunday of every month at Jardine's, 4536 Main St., in Kansas City, Mo.