Regionally renowned artist Ernst Ulmer dead at 86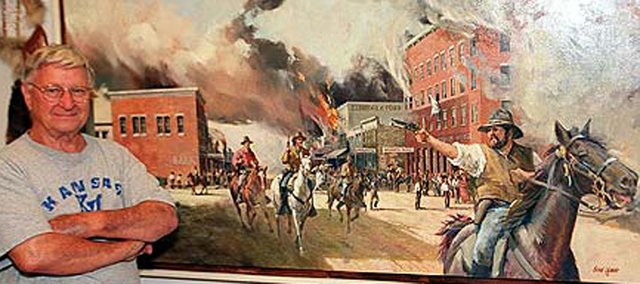 Bonner Springs — Talented, funny and self-effacing to a fault are just a few of the characteristics that stand out in the minds of those who knew Ernst Ulmer.
"He had a great sense of humor, a twinkle in his eye," Gary Blitsch, owner of the Southwind Gallery in Topeka, said of the well-known Kansas artist who died last Tuesday, June 9. "He fell into that category of the Greatest Generation. They didn't ask for much, they gave far more than they took. He fell into that category."
Ulmer, 86 at the time of his death, was raised in Kansas City, Kan, and was the son of German immigrants who had settled in Kansas City to run a grocery store. Blitsch, who had been a close friend of Ulmer's for more than 10 years, said that family grocery store provided the artist with the means of creating some of his earliest works.
"As a young kid, in grade school and high school, he spent time drawing on cardboard boxes in the back of the grocery store when he had time to do that," Blitsch said.
After high school, Ulmer married Mary Malloy, his high school sweetheart, and soon after was drafted into the military, where he served as an aviation mechanic during World War II. He attended the Kansas City Art Institute in 1946 and later obtained a master of fine arts degree from the University of Missouri, Kansas City.
Through the combination of education, hard work and natural ability, Ulmer was, many years later, able to parlay those early cardboard drawings into a long-standing and prolific art career. His works, often consisting of large oil canvases and murals depicting historical events in Kansas, garnered much attention regionally, nationally and internationally – and are housed in many private collections across the globe and have been featured in such publications as Time and U.S. News and World Report.
Ulmer's name alone has been enough to secure a spot for his murals on the walls of several notable Kansas buildings, including the Leavenworth County Courthouse. Keyta Kelly, director of the Kansas Sampler Foundation, was the Leavenworth County counselor-at-large in 2006, the year Ulmer was asked to create a mural for the recently renovated courthouse.
"We contacted Ernst specifically to make sure that he (brought us a proposal for the project) because we wanted him, you know. We knew of his reputation and his talent," she said.
The completed mural was a 16-by-9-foot piece, which Ulmer titled "Free State," depicting an event during the Bleeding Kansas period. It was hung to overlook the marble staircase inside the courthouse and still hangs there today.
Kelly said she was astonished by Ulmer's work ethic and how quickly he was able to complete the mural.
"He was just amazing because he was into his 80s at that time, but he had this mural painted in three weeks," Kelly said.
She said working with Ulmer over those three weeks was never dull.
"Oh he had a very keen sense of humor, you know," Kelly said. "He was funny, he made you laugh. He was very modest too, for the amount of talent he had. For me he just oozed talent, he could paint something so easily with so little effort it seemed. But he was very modest about it."
Blitsch also knew Ulmer's work was a must-have for the Southwind Gallery when he opened the space 17 years ago.
"When I first opened this gallery, he was the person I went to because I wanted a well-known artist to show in our gallery," Blitsch said.
Blitsch currently has two of Ulmer's works in his gallery collection – a landscape piece and a large canvas depicting William Quantrill's raid on Lawrence, in the last half of the 19th century.
"He was a good friend, like an uncle," Blitsch said. "We just had a lot in common, a lot to talk about."
Ulmer and his wife moved in the 1970s to a house just outside of Bonner Springs, where he lived and worked out of his home studio until the age of 86, when he died from complications of congestive heart disease. He leaves behind an extensive family, including four children and several grandchildren, but his family members won't be the only ones to miss him, Kelly said.
"Oh he'll be missed by many people," she said. "I think it's a great loss. Naturally of course for his friends and family, but probably just as much for the art world."
Ulmer was named Kansas Artist of the Year in 2006.