Fourth-graders present lunch tray alternatives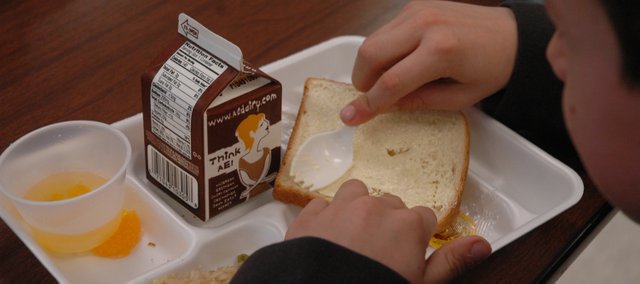 Styrofoam lunch trays shouldn't be treated like yesterday's garbage anymore.
This was the message the Bonner Springs Elementary fourth-grade class imparted to the Bonner Springs-Edwardsville Board of Education Monday night in an "Increase Your Green" presentation about recycling.
With the help of a power point created by the students, the class provided statistics regarding the Styrofoam trays lunch has been served on for the last five years at BSE. They reported that BSE uses 78,300 Styrofoam trays a year, which are all then thrown away. They also said these trays are largely hard to recycle and the basic component of Styrofoam, styrene, is a pollutant that can be a factor in such things as reproductive and developmental problems, as well as cancer.
As an alternative to the Styrofoam lunch trays, the class presented three alternatives. The first was to switch to a sugar cane lunch tray, which is biodegradable and can be reused. They reported these trays also don't have any harmful chemicals in them. The sugar cane lunch trays would cost $62.23 for a case of 500, which is well over the $25.10 for a case of 500 Styrofoam trays.
Another alternative was to fix the broken dishwasher in the cafeteria. The students reported that would cost around $17,000 . This would allow the school to utilize the reusable trays it already has. Although this amount didn't include the extra staff that would need to be paid to run the dishwasher, which BSE fourth grade teacher Amanda Ketterling later pointed out might be a detriment to getting this idea approved by the board.
A final, and more economic, alternative was to start incorporating what the class has termed "Trayless Tuesdays," where every Tuesday cold lunches could be served in paper sacks or on paper plates. The class reported that this alternative would save BSE around $904 every year and the entire district around $4,518 every year.
At the end of the presentation, two rounds of applause were given to the fourth-graders and board president Kay Shevling said the board would definitely give some thought to what the class had presented.
BSE is in the Expeditionary Learning grant program, which requires students to take part in investigations related to subjects they are already covering in school. Ketterling said the "Increase Your Green" theme was chosen this year because it would cover many areas the fourth-graders are already covering in their science, math and art classes. Fourth grade teacher Wendy Dobbs said this wasn't the only reason, however. In a rather unconventional demonstration, Ketterling and fourth grade teacher Heather Casey brought in trash bags from the outside dumpsters to show the students how much Styrofoam lunch trays are contributing to the trash at BSE.
"When the kids saw how much trash from just our Styrofoam trays, they were disgusted," Dobbs said. "And they decided they wanted to do something. I really want to give credit to the kids, because they were the ones that lead us in this direction."
Ketterling, Dobbs and Casey all reported that the "Increase Your Green" investigation has had a lasting affect on the way they run their classroom. Their "pod," as each grade level area is called at BSE, is now much more recycle-friendly.
"We refuse to throw anything away in our pod," Ketterling said.
Fourth-grader Sayra Serrano, who was one of the leaders of the presentation at the board meeting, said the experience has had a lasting effect on her as well.
"I used to see trash on the sidewalk and just ignore it," she said. "But now, when we go on walks, we take a plastic bag and wherever we see trash, we put it in the plastic bag."
Dobbs said she believed Trayless Tuesdays has a good chance of getting approval from the board.
Also on Monday, the board:
• Unanimously approved the adoption of the agenda.
• Changed the time for the return to open session at the Feb. 17 meeting from 9:50 p.m. to 8:50 p.m. and unanimously approved the minutes of that meeting.
• Unanimously approved the treasurer and clerk's report.
• Unanimously approved warrants in the amount of $311,660.59.
• Heard a budget forecast from Superintendent Bob Van Maren. He reported that cuts for this year will amount to $33 per student, with a goal of maintaining $4,400 per student in part by utilizing American Recovery and Reinvestment Act funds, which haven't been passed by the legislature yet.
He also expects the district to receive Title I stimulus funding, which will be used for reading programs. He said that, while this money could be used in other areas, it wasn't a good idea.
"I don't recommend that," Van Maren said. "I recommend that, where possible, we use the title funding we're going to receive to pay for our reading, tutoring and reading summer school programs."
Van Maren said that more than $626,000 will be the likely cuts for next year.
• Unanimously approved specific cuts 1 through 7, excluding 5, in a list submitted by Van Maren. These include, among others, efficiency cuts such as uniforms and maintenance of leases, administrative cuts, the reduction of travel and a 2 percent salary reduction of administrative staff, starting with the central office. Future cuts Van Maren outlined may include everything from raising athletic fees to charging a fee for Orange Crush member T-shirts, which one resident who attended the meeting had some issues with.
"I think that's kind of pushing it there," he said.
• Unanimously approved the new health policy.
• Unanimously approved construction bills totaling $32,654.72.
• Heard a bond issue update. The new trailer for the concession stand will be arriving this week. Van Maren reported that with all the bond money that's been used thus far, there is still some left over.
• Heard Van Maren's update. He said the district has now added a $15 gym usage rental fee.
• Heard board member Greg Gibson talk about his experiences at the EL Conference, on March 5 to 7 in Baltimore, Md.
"We have some very, very intelligent, smart, dynamic, ahead of the curve people in this industry, and it's amazing," he said.