Area dog groomer stays a cut above the rest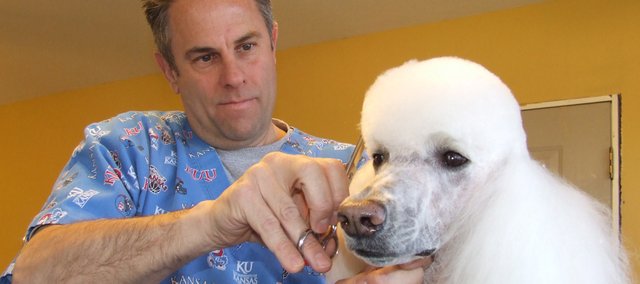 With a pair of scissors in one hand, Dan Hoover begins cutting.
A little off the top and then some more around the ears. He sculpts the hair in a way to enhance his clients' natural beauty using quick, yet meticulously thought out movements.
The premiere stylist doesn't work in your typical salon, however. Hoover is a dog groomer and splits his time between The Bonner Springs Animal Care Center and an office he has set up at his home in Eudora.
"I believe dogs truly are man's best friend," he said. "Their love is unconditional and that's a bond that I have with them."
Hoover's love of animals started at a young age on his family's Iowa farm. He kept raccoons and skunks as pets in addition to his horses and dogs. In 4-H, Hoover showed dogs at the county fair but eventually got bored after winning most of the competitions.
"I went to a couple dog shows and I loved it," he said. "I thought 'Wow, this is a league of its own.'"
Hoover attended the New York School of Dog Grooming and moved on to a job with Court Hill Toy Poodles, which successfully made over 50 dog show champions, including Best in Show champions. His success with grooming champions led to becoming a professional dog handler.
"It's a really competitive world, but that fueled my fire," Hoover said, citing dog shows he's competed in all over the world. "It's a really rough road. It's seven days a week and you have to have a staff. The coat and physical conditioning is a seven-day job. And if you have puppies, that's a 24-hour job."
Hoover also owned Empire School of Dog Grooming in Mission for many years. There he passed on his knowledge to up and coming groomers from as far away as Thailand.
The pressure of the competition eventually got to Hoover and he left the dog show world.
But his passion for dog grooming never died and out of instinct, he found his way back into the business.
Hoover now grooms dogs from Wyandotte, Douglas, Leavenworth and Johnson counties with one client coming from as far as Arkansas. While he is trained for show dogs, Hoover now works on all dogs including the ones that only come to him once a year for a summer cut. But what he said he is mostly known for is his scissor work.
"I do all my sculpting by hand," he said. "Nobody else can do this in the area."
Hoover said he believes a successful dog groomer is born with something special. He said to be a good dog groomer someone must have an eye for balance. That and a love of dogs, he added.
"I love the glamour of being able to make (a dog) gorgeous," he said. "When (dogs) leave my office, you see their strut. You can tell (the dog) knows that he's looking good."
To find out more about Hoover and his dog grooming business, go to captaincreekranch.com.