4-Her receives state honor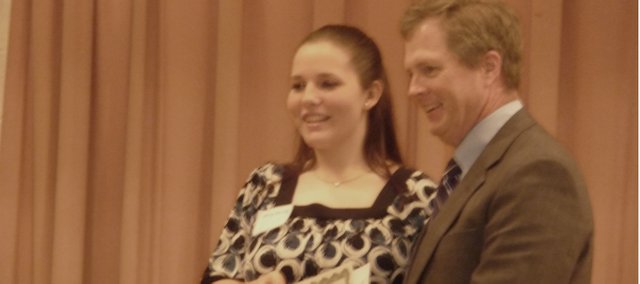 When Mary Harrity showed up for the annual Wyandotte County 4-H Achievement Awards Celebration Thursday, she had no idea the honor that was in store for her.
As Harrity, who is a member of the Chaparral 4-H group, sat in front of the stage at the George Meyn Center in Wyandotte County Park, a new award was announced to all in attendance.
The Youth Citizenship Award, given by the Kansas Treasurer's office, was designed for 30 Kansas youths who showed exceptional leadership skills and volunteer efforts. Harrity was chosen as one of those 30 youths.
"It was really an honor to be recognized by the state treasurer," Harrity said at the end of the night. "I always just try to help out as much as I can."
State Treasurer Dennis McKinney was in attendance at the event to present the award to Harrity.
McKinney said he decided to offer the statewide award this year because he used to present a similar award to his district when he was a state representative for Barber, Comanche, Kingman, Kiowa, north Harper and southeastern Ford counties.
"I figured why not try to do the award state wide," McKinney said.
His office sent an e-mail to all state 4-H organizations, offering the award to the first 30 groups to respond with a deserving youth. Wyandotte County was one of the first to respond thanks to Peggy Berrier-Boyd, Wyandotte County K-State Extension 4-H Youth Development agent.
"I hurried up and responded," Boyd said. "We're really excited for Mary. She volunteers to help me with so many things."
Along with the treasurer, the Youth Citizenship Award is a partnership with UMB Bank. In addition to a certificate, Harrity also received a $50 savings bond.
McKinney said Harrity was the perfect example of a youth taking advantage of programs such as 4-H that are dedicated to developing future leaders.
"One of the best leadership programs we have for youths today is 4-H," he said. "It's the leaders that look beyond their own needs to make good things happen."