Man's best friend makes good reading companion as well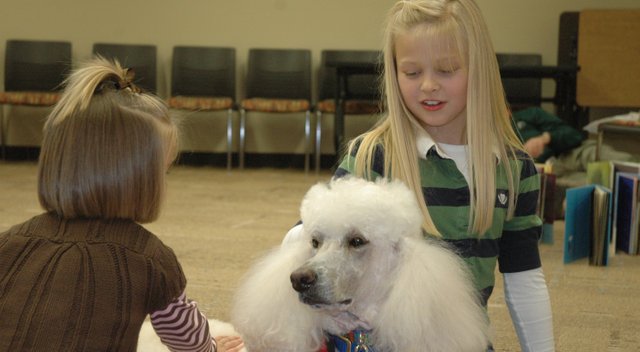 Zoe and Llew helped children read books by listening to them read out loud Thursday night at the Bonner Springs City Library.
But Zoe and Llew aren't reading helpers of the human variety. They are dogs with the Reading Assistance Dogs program, which is designed to provide young readers with a safe and comforting reading companion.
"They are very good reading companions because they cross all social barriers, they cross all ethnic barriers," said Fran Lancaster, a R.E.A.D. coordinator and instructor. "Dogs are great listeners. They do not judge, ridicule or criticize ... They permit the children to work at their own pace without the worry associated with task completion. And, you know, they are not as intimidating as teachers or (a child's) peers or classmates maybe."
Several children showed up to the event to read their book to Zoe or Llew. Those that were still waiting their turn were given a project of making a catnip-filled toy to give to cats at a local shelter.
"Zoe doesn't bother me," said 9-year-old Morgan Wilcox of why she enjoyed reading her book to a dog that, unlike her younger sister Cooper, doesn't interrupt her while she is trying to read. "She's soft. I like to pet her."
Eight-year-old Keith Cunningham, who also read to Zoe, said he enjoyed reading to her because, as he said simply, "I like dogs."
"I already know how to read a lot," he added, making note that he was a good reader with or without a dog to listen to him but having a dog around was still nice.
More of this story can be found in next week's Chieftain newspaper.