More county residents can receive
H1N1

vaccine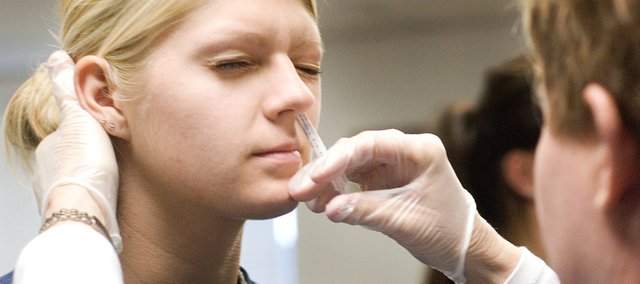 The Leavenworth County Health Department has expanded the list of people eligible for the H1N1 vaccination.
On Thursday, county officials said people 25 to 64-years-old who have health conditions associated with higher risk of medical complications from influenza can now get the vaccine.
This new group joins four other priority groups established by the Kansas Department of Health and Environment, which include: pregnant women; persons who live with or provide care for infants less than 6 months old; healthcare and emergency medical services personnel who have direct patient contact; and people 6 months through 24 years old.
The health department will conduct another public H1N1 flu clinic from 9 a.m. – 3 p.m. Monday at the health department, 500 Eisenhower Rd, Leavenworth.
There will be no cost to receive the vaccination at this clinic and this clinic is only open to residents of Leavenworth County. All individuals requesting vaccination at this event must be in one of the priority groups listed above.
Pregnant women and children 6 months to 2 years old and people over the age of 49 are not eligible for the nasal spray vaccine and will receive an injectable dose. All others will receive the nasal spray vaccine.