Musical's cast hopes to capture laughs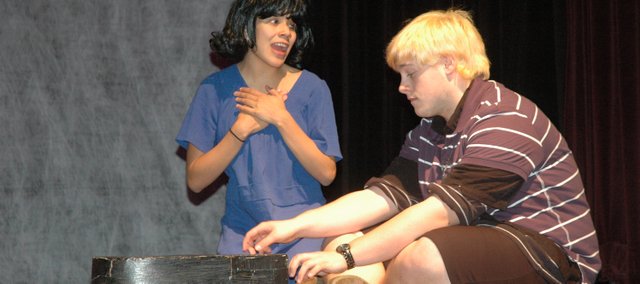 Characters such a Charlie Brown and his friends Sally, Lucy, Linus and of course Snoopy have been entertaining Americans for decades.
Now the gang is headed to Bonner Springs High School as students prepare to present their fall musical, "You're a Good Man, Charlie Brown."
"It's really funny," said director Brian White about the upcoming performance. "(The Peanuts comic) is such a big part of American culture."
"You're a Good Man, Charlie Brown," opens at 7 tonight, offering Bonner Springs a look at a day in the life of Charlie Brown. White said the musical is a collection of vignettes during an average day for all the characters.
Situations such as Linus giving up his blanket, Schroeder and his piano and Charlie Brown and the baseball team are all classic scenarios, White said, that people have been enjoying in the Peanuts comic strip for a long time.
"It's well worth the price of admission," White said. "It's cheaper than a movie, and live theater is always more entertaining. It'll just be a good time for the whole family."
In addition to the comedy and small cast, who White said has been a lot of fun, one of his favorite aspects of the production is the music.
"The music is fantastic," he said. "The way it ties in with each character is great."
At the end of the musical, White said he expected the audience to be left with a sense of happiness.
"The moral of the story is kind of about what happiness is to you," White said. "You can find happiness in the smallest things in life."
Playing Charlie Brown is BSHS senior Brad Roush.
Roush has been a part of several stage crews during his time at BSHS and during his last year in high school, he decided to finally take the spotlight.
"It's my senior year, and I figured it would be one last hurrah," Roush said.
Joining Roush in the cast is senior Kayla Zimmerly who portrays Sally. Zimmerly is no stranger to the stage and has been in productions such as "Annie" and "Bye, Bye Birdie."
While she was in chorus in those productions, Zimmerly also decided to take center stage her senior year with a more important character.
"I grew up in the theater," Zimmerly said. "I've always been involved in the school productions. I love anything theater."
Both Roush and Zimmerly are looking forward to tonight's opening night. They said the cast has been working hard, putting in time every day after school since September.
"In the last week, it's really starting to all come together," Zimmerly said. "It's a cute play to watch. It's not full of drama, so it's something to enjoy. Just sit and enjoy yourself for two hours."
There also might be another surprise in store for those who attend. While no decisions had been made as of Tuesday afternoon, Roush is considering how to get more into character.
"Definitely come, you might see me bald," Roush said as he ran his finger through is hair.
"You're a Good Man, Charlie Brown," will run at 7 p.m. Thursday, Friday and Saturday, Nov. 12-14, in the auditorium of Bonner Springs High School. The price admission is $5 for students and $7 for adults.