Rates going up in Bonner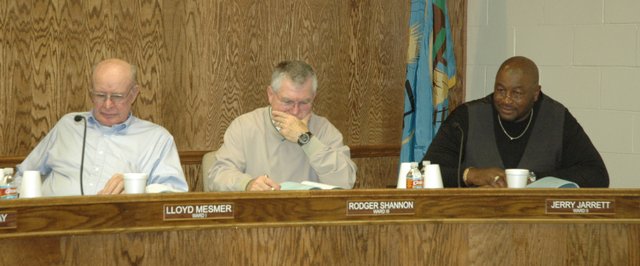 During Monday night's Bonner Springs City Council meeting, council members approved fee increases included those to grave lots, fireworks stands and residential trash and recycling.
Because of the city's interlocal agreement with the Unified Government, residents will see a $2 increase – from $9.65 to $11.65 per month – in their household trash collection and curbside recycling fees effective Jan. 1, 2010, and another $2 – up to $13.65 per month – effective July 1, 2010. The rate increases are based on an increased rate the Unified Government will charge the city during those same months – from $9.21 to $11.21 per month effective in January, and up to $13.21 per month effective in July.
The vote to increase the fees was a tie among the council members, with Rodger Shannon, Jerry Jarrett, Bob Reeves and George Cooper opposed. It is city policy that when there is a tie vote, the mayor must cast the deciding vote.
"I am strongly opposed to (the rate increase), but we have absolutely no choice," Mayor Clausie Smith said. "As bad as I hate to, I'm voting 'yes.'"
Grave lot fees will increase from $450 to $520 for residents, and $900 to $1,100 for nonresidents, effective Jan. 1. Next summer, fireworks stand fees will increase from $500 to $750.
In a workshop prior to the meeting, the council discussed additional fee increases to be included on the Nov. 23 meeting's agenda. Pending a vote by the city council, residential water bills will increase about $1.64 per month, based on 5,000 gallons of usage, effective April 1, 2010. Sewer usage fees will increase 21 percent, spread out over three years at a 7 percent increase each year, also effective April 1.
Impact fees are those fees that are applied to debt reduction of capital improvements, such as the new wastewater treatment plant and the upcoming Wolf Creek sanitary sewer project. Pending a vote by the city council, water impact fees will increase 4.5 percent, effective Jan.1, 2010. Sewer impact fees will increase 10 percent, also effective Jan. 1.
"(We should) think about income, before we do some things," said Jarrett, who noted that some residents were finding it hard to pay their bills each month.
• Presented a proclamation to the VFW Post 6401 in recognition of Veterans Day.
• Witnessed the VFW present a flag to the Bonner Springs City Library that was flown on the U.S.S. Constitution on the same day the library opened, July 12.
• Heard citizen concerns about items on the agenda. An attorney, Robert Laing, spoke on behalf of the Miller family, which owns a property on Kansas Highway 32, south of 138th street where the Kump construction is currently taking place.
Laing spoke about a large ditch that had been dug on the property, which the city had said it would not fill back in.
"The Miller family has been damaged greatly by this, there is a tremendous loss to that property by having that ditch there," Laing said. "We're not asking right now for any compensation, other than to have that property restored as it was. I think that would be a very good compromise for the city to make."
Mayor Clausie Smith said an official letter would need to be sent by the family and an answer would be given to them at a later time.
• Unanimously approved supplemental claims for city operation in the amount of $20758.22 and regular claims in the amount of $422,124.80.
• Unanimously approved Public Housing Authority claims in the amount of $1,354.08.
• Unanimously approved an amended Automated Clearing House agreement and approved a Web Cash Manager sublicense agreement with Union Bank and Trust.
• Unanimously approved the acceptance of completed public improvements for Bonner Springs Pointe totaling $710,896.95.
• Unanimously accepted the dedication of easements for the final plat PT-09-101 Bonner Springs Industrial Park Seventh Plat (replat).
• Unanimously approved an application/contract with the Kansas Alliance for Wetlands and Streams for stream bank stabilization and restoration through Kansas WRAPS funds. The work will be done on the most eroded part of Spring Creek in Lion's Park, which needs stabilizing. The grant of $6,665 will fund 70 percent of the project cost, with city responsible for the balance of approximately $2,865.