Roscoe's serves 'Kansas City-syle'
BBQ

recipe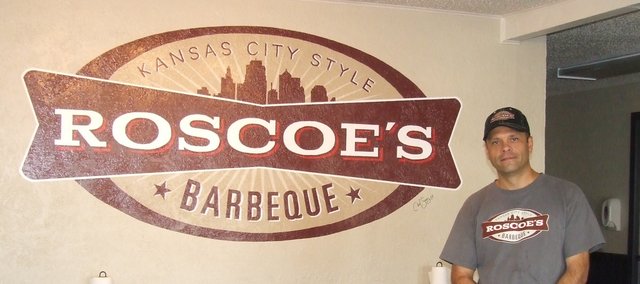 When the downtrodden economy caused Roscoe Davis to be laid off from his job in the printing business last March, he had some decisions to make.
What direction would he take his life? And would it involve printing, or another passion that left a better taste in his mouth?
Good thing for Edwardsville, Davis chose the latter and as of Oct. 23, the city is now home to Roscoe's BBQ, located at 9711 Kaw Drive.
"It's always been a passion of mine," Davis said. "I've always been a good cook."
Since being laid off, the Wyandotte County resident has been running a small catering business out of his home. When a friend told him about a restaurant space that became available, Davis jumped at finally getting a start on his lifelong dream.
Roscoe's BBQ, which occupies the old Godfathers Pizza building, is filled with barbecue knowledge that Davis has been collecting over the last 10 years in competitive barbecue competitions.
It was Davis' sons that wanted him to start competing in the first place, and the family business has grown from there. Davis' family and several road trips across the country have allowed him to claim that his barbecue isn't going to taste like everyone else's.
The sauce used at Roscoe's BBQ has been eight years in the making.
Davis visited several places known for their barbecue, such as Memphis and St. Louis, tasting his options before deciding the best style of barbecue is right here at home.
He began testing recipe after recipe and said a lot of product got thrown away before settling on the perfect blend.
"Now I have my own unique Kansas City-style barbecue," Davis said. "I came up with a recipe I felt has a little of all of (the other cities)."
On opening day, Davis said a line had formed stretching out the door of the restaurant. And as his sign was going even before then, Davis said truckers driving by would honk their horns and wave.
"The community has been really good about backing us and helping us," Davis said. "It's been incredible."
Davis said he's had several customers that have already eaten at the restaurant five or six times since opening day.
"Once people try it, people come back for more," he said.
Davis said it's hard to decide what his favorite item is on the menu. He said the restaurant's specialties are the ribs and beans, but he can't forget the several sandwiches he's invented.
Roscoe's BBQ is open 11 a.m. to 8 p.m. Monday through Saturday. For more information, call 422-4600.
"It's a dream come true. It's been my life passion to have a restaurant," Davis said, adding that he's found his calling and won't be returning to the printing business anytime soon.