Library creates novel section for junior readers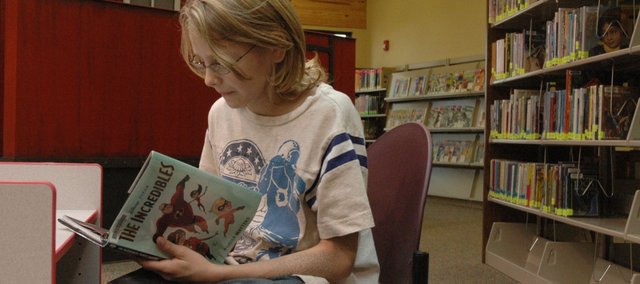 Nancy Drew, Amelia Louise McBride and Babymouse are some of the most popular characters in the junior graphic novel section of the Bonner Springs City Library.
The section opened in mid-September of this year for young people ages 6-11, who are old enough to appreciate a comic book but still young enough that the material in teen graphic novels might be a little too graphic.
"There were a lot of kids coming up and asking where the comic books were, and we would just point them to the teen section, but there were a lot of kids (that) I wasn't comfortable sending them there," said youth and teen librarian Erica Voell of why the section was created.
To build the section, Voell said she ordered several titles but also pulled some books from the teen section and some from the junior fiction section – books, she says, that weren't getting checked out very often. They now seem to be in their proper place, as the section has become hugely popular among area youths and pre-teens.
"They're getting a lot more attention," Voell said.
Graphic novels like the "Nancy Drew" and "Star Wars" series are spin-offs of those original, well-known titles. Others, like the "Babymouse" and "Amelia Rules" series are forerunners of their own making, inspiring young people with main characters as young as themselves, relatable storylines and, in the case of Babymouse, lots of fun misadventures.
"It's about a mouse who she gets herself into a lot of trouble," Voell said of the popular series created by Jennifer and Matthew Holm. "If anybody can get herself into a bind, Babymouse can. But it all works out in the end, of course."
Amelia Louise McBride on the other hand, the main character of the "Amelia Rules" books by Jimmy Gownley, is a young character dealing with her parents' divorce, a crush on a boy and her aunt's rock stardom. Voell said these books were just as popular in the 21st century as "Peanuts" was in the 20th and for the same reason.
"('Amelia Rules') focuses mainly on the kids themselves," she said, noting the series was being coined the "Peanuts for the 21st century."

The pages of most of the graphic novel selections are simply but cleverly drawn, with bright colors and easy-to-follow dialogue bubbles. Voell said the junior graphic novel was a great way to get youths interested in reading at an early age.
"I think it's just really for kids who like comics," Voell said. "It's a great way to get them reading books that they enjoy. And it can introduce them to stories they might not have picked up in a traditional book form."
The section now boasts about 50 titles, and Voell says the majority of the books are usually checked out on any given day. She plans to expand the section, adding such novels as "Transformers," more "Star Wars" selections and the "Bionicle" series.
"I think that they have a very comic-book feel," Voell said of why youths enjoy the books so much. "And there's a perception that kids who are struggling with reading will do better with these, but that's not necessarily the case a lot of times. Kids will just pick up something like this because they like the pictures, and it feels more like a comic book."
The junior graphic novel section is located in the children's section of the Bonner Springs City Library, just outside the storytime room.