Marathon, fundraising honor veteran's fellow Marines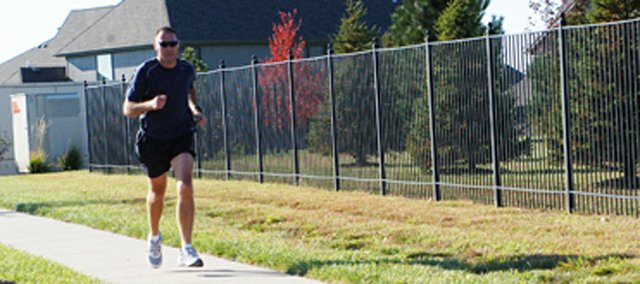 Tony Rider knows about the difficulties that come with serving your country.
He has seen his fellow Marines return from a war zone injured, or not return at all, and the effect it has on their families.
That's why he has raised more than $5,000 and plans to run in the Marine Corps Marathon this weekend in Washington, D.C., to honor all veterans and support the Operation Homefront organization, which provides support and financial assistance to veterans and their families.
Rider learned about the marathon from friends who ran it last year. They supported the same charity, which provides assistance for the Wounded Warriors Project, a program that provides free transitional housing for wounded veterans and their families, Wounded Warrior Wives support groups, and other assistance to help them adjust to their new civilian life.
"They talked about all the good the charity does to help with veterans," Rider said. "I just decided if I was going to run in a marathon, I wanted to run in the Marine Corps Marathon in D.C. and I wanted to raise money to help someone out."
Rider has served in the Marine Corps Reserves for nearly 20 years. As a sophomore in college, he deployed to the Middle East for Operation Desert Shield/Storm. He deployed to Iraq for seven months in 2003 during the initial invasion of the country, and he returned in 2005 to Fallujah, Iraq.
While Rider returned from his deployments physically unharmed, many of his fellow Marines were not as lucky. One man Rider served with lost his leg, and Rider knew how much strain and stress it caused the fellow Marine's family.
"That was kind of the catalyst that made me realize what they go through, trying to get back to sort of a normal life," Rider said. "It's got its challenges. I think I'll definitely use that as inspiration (when running the marathon)."
Rider has never before run a marathon. After making the decision to run the Marine marathon, he and his wife ran a half marathon in the spring.
"I have bad knees and have had a lot of surgery on one of my knees, so I wanted to see if my body could withstand it," he said. " I didn't do too much training, and I realized after I ran the 13th mile that I'll have to get out and run to do it."
Rider has now been training for 14 weeks, running four days a week. But his bigger focus has been raising money for Operation Homefront through a Web site, active.com/donate/OpHomeFront2009MCM/1Arider.
To run the marathon, all participants must raise a minimum $500, but Rider first decided to set a minimum goal of $1,000.
"I had such an overwhelming response when I first started getting word out that I was doing this, I blew past the $500 in four days," he said. "I wanted to raise as much as I possibly could, and then I realized if I really buckled down and ran a well-organized campaign, I could hit $5,000."
So he quintupled his original goal and last week met it. Most of his fundraising came in response to e-mails, he said, asking his friends and family to pass it on to others.
"I got a lot of contributions from people I don't know; my association with them is through one of my contacts," he said. "It's been really neat, because I don't think I could have hit that amount with just my contacts."
Rider will pay his travel costs to the marathon this weekend; he and his wife and three daughters plan to use the trip as a family vacation. And he looks forward to the inspiring sights he'll take in as he runs the marathon, which begins near the Pentagon, winds its way into Georgetown then to the National Mall and ends at the Marine Corps Iwo Jima Memorial.
"They say that the route is just amazing because of all the history and all the traditions," he said. "I'm hoping that will distract me from the pain of running 26 miles."
Also on his mind will be all those with whom Rider served, especially those who were injured or lost their lives, like one Marine who died on his last day of security patrols during his second deployment.
"After that day, he would have been going home in three days," Rider said. "That was hard to swallow, just knowing that he was four hours away from the rest of his life. I think about that a lot."
Running the marathon will be a major accomplishment in Rider's life, he said, but the bigger accomplishment will be the support he has raised for his fellow veterans.
"Before I even run it, one of the things I'm more proud of is raising this amount of money," Rider said.
Operation Homefront will be accepting donations related to the marathon through the end of the year, so anyone interested in donating may visit Rider's Web site.