Compassion bridges disability gap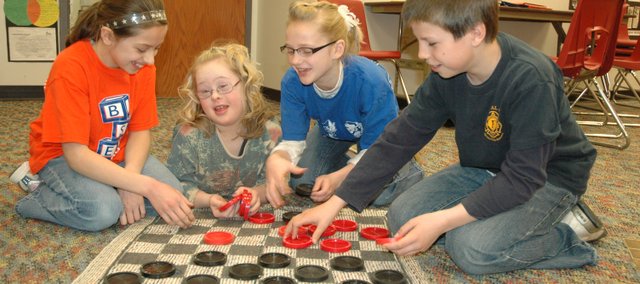 Fifth-grader Nikolai Christoff is quiet and shy around strangers, not saying much more than a word or two as he smiles self-consciously.
But when he is around his friend, fellow fifth-grader Josh Ray, he comes alive, instantly transforming into a playful extrovert whose unmistakable confidence comes from having such a good friend. The two Bonner Springs Elementary students have a bond that formed when Josh began helping Nikolai, a special education student, with his school work in the third grade.
"He's pretty funny and nice," Josh says of Nikolai.
Josh is one of virtually all the general education students in the fifth-grade class who have taken it upon themselves to help out the special education fifth-graders at BSE, who attend many of the same classes but often struggle in such areas as learning and communication. The general education fifth-graders help their special classmates, many of whom have significant disabilities, with everything from math work to walking them into homeroom each morning.
These helpful fifth-graders are characterized, their teachers say, by a mixture of fearlessness and unabashed kindness that is surprising in an age group where making fun of students who are different can be a common occurrence at school.
"This is when it starts, this is when we start dealing with mean boy, mean girl issues," said BSE principal Kim Mitchell. "It's just not typical of the age."
The fifth-graders say this willingness to help started naturally, at no prodding from their teachers. Fifth-grader Paige Krone said she started helping her special education classmates after being inspired by special education teacher Tierney Thompson. At the age of 11, she already knows she wants to one day become a special education teacher like Thompson, and helping her classmates gets her one step closer to that dream. Paige displays behaviors as a student she may take part in as a teacher, grading and putting stickers on her special classmates' work and showing them how to do subtraction by using her fingers.

"I see how their teachers work with them, and I'd like to do that because it looks fun, and it helps (the special education students) a lot," she said.
Then there is Preston Landers, another friend of Nikolai's who helps him with his math. Preston said his and Nikolai's friendship began almost immediately, after Nikolai began playing with him during school one day.
"He was like, 'Do you want to play with me?' And I said, 'Yeah, do you want to be friends with me?' And he said, 'Yeah,'" Preston remembers.
Their friendship may have started out simply enough, but Preston says befriending Nikolai has given him an elevated sense of self-worth.
"It makes me feel good because I know that I'm doing the right thing," he said.
Fifth-graders Karli Trumbo and Alayna Dooley said they began helping special education student Paige Hammon this year, as she is new to the district. They describe Paige, an exuberant 10-year-old, as "funny, full of life, creative, nice," and these are qualities that drew them to her almost immediately.
"She just had sat by me, and she seemed like she wanted to have lots of friends … and I just wanted to step up and get to know her because this is her first year at BSE," Alayna said.
Instead of checking Paige's work, the girls say she often checks theirs. Speaking clearly is difficult for Paige, but Alayna and Karli seem adept at understanding her as she chatters away. Just like getting to know any friend, they say all it takes to know Paige is a little patience.
"You just take some time and get to know her better by listening to her and talking to her," Alayna said.
Mitchell said this practice of helping the special education students and making them feel included wasn't just happening in the fifth-grade class, but was going on building-wide. She says it is "the culture" of BSE and always has been.
Tammy Meisenheimer, fifth-grade social studies and language arts teacher, said she had students in her classroom whose inclusiveness could put people twice their age to shame.

"A lot of times, even adults are afraid, they don't know what to do if a student has special needs. We stand back (thinking) 'What do we do?' These kids don't," Meisenheimer said. "It's something you can't teach a child, to be nice to another child. And these students? We'll watch, we'll just go, 'Wow.'"